I am trying something a little different in this week's Two Scoops. Rest assured, this is a one-time special. Hopefully you'll enjoy it -- but if you don't, know that we're back to basics next week!


So many of you wrote in to ask how everyone seemed to whisk back and forth between Pine Valley and Washington, DC. So to prove that this time warp travel is possible -- and since I have extra time on my hands due to there being only four new episodes last week -- I am preparing to recreate Madison North and Zach Slater's trips in real-time for this week's column.


1:00pm: Starting up the car to roll on out of the house. Funny, but this makes me think about how you rarely see someone in a car on the soaps unless they are going to crash or have someone pop up in the backseat with a gun. Hmm…


1:02pm: Really leaving the house this time. A thorough check confirmed that there was no one hiding anywhere in or under the car.


1:07pm: Just now crossing over the Pennsylvania Ocean. Wow, nice breeze coming off the water today. Hmm… is that Erica and Ryan out there in a sailboat? I'll honk my horn and wave, but I can't slow down because I'm on a really tight schedule.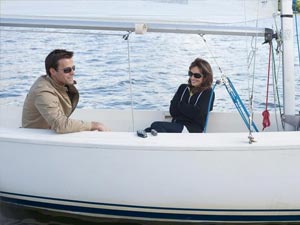 I can't say that I ever thought Ryan and Erica would end up as a couple. I'm not necessarily opposed to the idea -- who am I to judge? However, there are some weird creepies that squirm into the picture. Ryan just had an intimate relationship with Erica's daughter, Kendall. See! I can "unnecessarily qualify" names, too! Had Ryan and Kendall never been involved -- or had they been involved years ago -- I might be able to shake that vision out of my head. What is it about Ryan that makes him need to hop from woman to woman to woman so quickly after the end of a relationship? My guess is the same thing that makes Erica get married time after time after time. Maybe these two have what the other is looking for.


1:14pm: Passing by the exit to get to Llanview. Pine Valley and Llanview are so close together, I wonder why no one runs into each other at the beach, casino, or supermarket?


1:30pm: Thanks to EZ-Pass, I'm in Delaware passing by a line of traffic waiting to pay their tolls. Yes, Madison must not have had to stop to pay tolls. Wow… the traffic is really crazy.


Speaking of crazy, I think Annie's cuckooness is starting to lose its luster. I think it's universally accepted that Annie was pretty boring before she snapped and started killing people. Okay, technically she only killed one person, but it wasn't for a lack of trying. I enjoyed Annie being a little off the wall up to and including the showdown with Dr. Sinclair at Oak Haven. Now, gosh, I'm just sort of over it. She either needs to get better or get locked up. There's no middle ground.


I also don't think that Annie killed Stuart. They are trying way too hard to pin the murder on her. So obviously it's a red herring. Annie, on the other hand, is determined to see Kendall go down for the slaying. So that means only one person could've pulled the trigger: Emma. Annie wouldn't go to bat for anyone other than her daughter. Emma as a pint-size killer would be "shocking," as the show has said the killer's identity would be.


1:56pm: Well, I won't be back before this episode ends and I don't want to barge into One Life to Live or General Hospital. So I guess I'll have to wait for tomorrow's episode.


Angie Hubbard had me cracking up with a line that I know wasn't supposed to be funny. "It didn't go well with the D.A. last night, did it?" Actually, Angie, last night was a hit! Yeah, yeah. They can't all be winners, folks!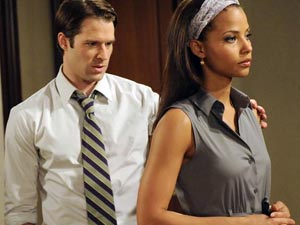 So I have some issues with the offing of Henry North. Since traffic's a little slow, I hope you'll indulge me. I like the fact that Randi thinks she killed Henry -- that makes for good story. It's a shame that he's really dead, because we could have a really good I Know Who, er, What You Did Last Summer storyline where Henry terrorizes Randi. For newer viewers -- this isn't a gay storyline. Randi is a woman -- hence the "i" at the end of her name. Now that we've cleared that up. I thought the hotel scenes were pretty well done. Henry was really rather disturbing and I believe that had Randi not clobbered him with a bookend, he might have sexually assaulted her.


I know logistically it wouldn't have worked, but it would have been a little more believable if Frankie was the one helping Randi ditch a dead body. But that wouldn't have worked because that would have required Frankie to know about Randi and Henry's past. Do I really think that Jesse would throw everything away for his daughter-in-law? I'm sure he is very fond of Randi, but, no, I don't think he would risk going to jail and being apart from his wife and son again.


The revelation that Randi is pregnant also came at the perfect time. Randi wasn't just scared of going to jail for murder -- though, I am sure that's scary enough -- but she was worried about being a pregnant woman in jail. Angie's subsequent proclamation about "what a gorgeous baby it's gonna be" is dead on. I do hope Hubbards were toasting with sparkling grape juice or cider. There's already one baby on the canvas now… I really hope that nothing happens to cause Randi to lose the baby.


Just a quick random question: how is it that a cop from a small Pennsylvania town can always barge into some other police force's territory and just take over? That happened in Connecticut when Greenlee "died" and now Jesse is getting involved in the District's business as well. And aren't there cameras everywhere nowadays? So the hotel surveillance tapes disappeared. But what about the street cameras or camera on nearby businesses? I hope none of them picked up the disposal of Henry North.


2:41pm: Just chuckling randomly at another Erica Kane zinger. She and Krystal went back and forth over whether or not Erica needs to have a man on her arm at all times. "So you just raid the blood bank when you get hungry instead, huh?" Krystal fired off upon hearing Erica's denial. La Kane wasn't to be outdone, saying that she has "a number of careers" to keep herself busy -- and urged Krystal to go back to work. "In fact, why don't you think about going back to work and buy a new mattress or something?" Erica zinged.


3:36pm: There's an ambulance in the next lane over. No emergency. They just appear to be driving back to their home base. I'm going to drop back and get to the other side of the ambulance just to check something out. Hmm… just what I suspected.


It's all about the attention to detail. The AMC producers remembered to have the ambulance that raced across the screen at the beginning of Thursday's show have "Pine Valley" on it, but when the ambulance turned into the driveway in front of the hospital, the other side of the ambulance had a completely different city name on it.


4:17pm: Oops, I think I just cut someone off while trying to navigate around DuPont Circle. I mouthed an apology in my rearview mirror, but it probably came across as sincere as David's apology to Krystal.


I'm almost at my destination, so I will wrap things up by talking about the baby storyline. I feel Amanda's pain and I actually think that this storyline has turned out much better than I thought it would when I was envisioning it in my head. Amanda is distraught and could easily have become a soap opera whacko. Instead, the storyline allows for nuanced performances. Having Amanda go to speak to a counselor, but worrying about how to get help when she has to lie, was such a smart storyline point. Of course, David is now suspicious and it won't be long before he's causing trouble. Still, seeing how much Amanda aches over her decision is just heartbreaking.


Okay, enough sad storyline talk. I'm liable to get teary-eyed and run over a tourist. Sort of like Kendall did with Greenlee. I said "sort of," not "exactly." I thought it was genius to have Kendall's stream-of-consciousness talk with Jack blow the lid off her lie about killing Greenlee. This is an example of how secrets can be kept for later. Not everything has to come out at once. You can save a nice juicy nugget and whip it out later for shock and awe value. Note to writers: Doing this also proves to the audience that you haven't "forgotten" something. It's a win-win situation!


4:30pm: Alright, finally to the Four Seasons in Georgetown, which I believe is the hotel that AMC modeled its hotel after. No time to find a parking spot, so I'll just valet it. Actually, we'll just leave the car double-parked with the blinkers on. This won't take long. The Jefferson Suite has to be near the penthouse, so I'll just take the elevator as high as it goes and try my luck.


After a few moments of instrumental music, I'm at my destination. I'm just going to pick a random door here… and knock. After a few minutes, someone answered the door -- some guy I've never seen before. I smiled graciously, rapped on his forehead once or twice, pleasantly thanked him for his time (and the use of his forehead), and then scampered back to the elevator. He was left looking a little dazed, but somewhat amused.


4:42pm: Okay, the one-way trip took me more than a full episode of All My Children, One Life to Live, General Hospital, and most of Oprah. I have no idea how Madison, Jesse, and Zach got from Pine Valley to Washington, DC, so… dammit. Maybe they took a private jet or helicopter. I wonder where I can get one of those… and maybe swing by the Maldives to see where Annie was hiding.


Meanwhile, wait until I return for tomorrow's episode. Because on the next All My Children… Oh yeah, that's right. We don't do that anymore.



dan