DANKIES UPDATE:
The All-Soaps final ballot is now open for votes.
Click here
to cast your votes before Sunday, May 18th, 2014.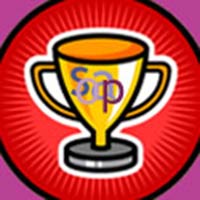 The Dankies: 1995-1996
Following are the final results of the 1996 Dankies. Winners are denoted by bold type.


---
The 1996 Dankies Final Results
Outstanding Leading Actor

(192/553 votes)
David Canary (Adam and Stuart Chandler) (165/553 votes)
Keith Hamilton Cobb (Noah Keefer) (46/553 votes)
Michael E Knight (Tad Martin) (150 /553 votes)
---
Outstanding Leading Actress.

Julia Barr (Brooke English) (26/553 votes)
Eva La Rue (Maria Santos-Grey) (144/553 votes)
(181/553 votes)
Robin Mattson (Janet Green) (153/553 votes)
Marcy Walker (Liza Colby) (49 /553 votes)
---
Supporting Actor

Chris Bruno (Michael Delaney) (84/553 votes)
(250/553 votes)
James Kiberd (Trevor Dillon) (99/553 votes)
Michael Sabatino (Dr. Jonathan Kinder) (120 /553 votes)
---
Supporting Actress

Teresa Blake (Gloria Marsh) (84/553 votes)
Jill Larson (Opal Cortlandt) (50/553 votes)
Cady McClain (Dixie Cooney) (67/553 votes)
(218/553 votes)
Kelly Ripa (Hayley Vaughan) (134/553 votes)
---
NewComer

(314/553 votes)
Carrie Genzel (Skye 'Toni Kinder' Chandler) (47/553 votes)
Lee Meriweather (Ruth Martin) (22/553 votes)
TC Warner (Kelsey Jefferson) (170 /553 votes)
---
Younger Performer

Darlene Dahl (Anita Santos) (74/553 votes)
Shane McDermott (Scott Chandler) (59/553 votes)
Tommy J Michaels (Tim Dillon) (40/553 votes)
Lauren E Roman (Laura Kirk) (146/553 votes)
(234 /553 votes)
---
Attractive Male

John Callahan (Edmund Grey) (158/553 votes)
Keith Hamilton Cobb (Noah Keefer) (72/553 votes)
(212/553 votes)
Michael E Knight (Tad Martin) (111 /553 votes)
---
Attractive Female

(321/553 votes)
Susan Lucci (Erica Kane) (93/553 votes)
Kelly Ripa (Hayley Vaughan) (105/553 votes)
Marcy Walker (Liza Colby) (34 /553 votes)
---
Memorable Moment

(243/553 votes)
Noah and Julia's Cinderella wedding (90/553 votes)
Janet and Erica bury Jonathan in the rose garden (84/553 votes)
Dixie says goodbye to Tad and leaves Pine Valley (62/553 votes)
Laurel Dillon is murder on The Cutting Edge (74 /553 votes)
---
Storyline

(293/553 votes)
A Kinderless, Gentler Nation: Jonathan's dead (95/553 votes)
Erica battles drug addiction (109/553 votes)
Fleeing Pine Valley: Noah and Julia escape to Jamaica (56 /553 votes)
---
Least Favorite Storyline

Do Do that Voodoo: Noah, Julia, Jamaica and All Its Magic (132/553 votes)
A Kinderless, Gentle Nation: Jonathan's dead (35/553 votes)
The Power of the Mind: Trevor faces paralysis (90/553 votes)
A Rose is a Rose: Grace Keefer returns to Pine Valley (60/553 votes)
(236 /553 votes)
---
Favorite Character

Adam Chandler (65/553 votes)
Janet Green (181/553 votes)
Edmund Grey (51/553 votes)
(196/553 votes)
Hayley Vaughan (60 /553 votes)
---
Missed Character

Mary Fickett (Original Ruth Martin) (110/553 votes)
Jim Fitzpatrick (Original Pierce Riley) (67/553 votes)
Felicity LaFortune (Laurel Dillon) (55/553 votes)
Christopher Lawford (Charlie Brent) (54/553 votes)
(219/553 votes)
Rosa Nevin (Cecily Davidson) (48 /553 votes)
---
Recurring or Special Role

(208/553 votes)
Ben Jorgenson (Kevin Sheffield) (40/553 votes)
Rosie O'Donnell (Naomi the Maid) (200/553 votes)
Lynne Thigpen (Grace Keefer) (105 /553 votes)
---
Least Favorite Character

Skye Chandler (147/553 votes)
Kelsey Jefferson (58/553 votes)
Dr. Jonathan Kinder (100/553 votes)
(159/553 votes)
Anita Santos (89 /553 votes)
---
Overall Performer

Julia Barr (Brooke English) (9/553 votes)
Teresa Blake (Gloria Marsh) (3/553 votes)
Chris Bruno (Michael Delaney) (4/553 votes)
John Callahan (Edmund Grey) (25/553 votes)
David Canary (Adam and Stuart Chandler) (86/553 votes)
Keith Hamilton Cobb (Noah Keefer) (16/553 votes)
Mark Consuelos (Mateo Santos) (3/553 votes)
James Kiberd (Trevor Dillon) (6/553 votes)
Michael E Knight (Tad Martin) (58/553 votes)
Jill Larson (Opal Cortlandt) (2/553 votes)
Eva La Rue (Maria Santos-Grey) (68/553 votes)
(134/553 votes)
Robin Mattson (Janet Green) (78/553 votes)
Cady McClain (Dixie Cooney)(4/553 votes)
Sydney Penny (Julia Santos-Keefer) (6/553 votes)
Kelly Ripa (Hayley Vaughan) (17/553 votes)
Michael Sabatino (Dr. Jonathan Kinder) (5/553 votes)
Marcy Walker (Liza Colby) (21 /553 votes)