For many television viewers Susan Lucci and All My Children are synonymous with each other. After all, the actress has been with the show for thirty years.
Soap fans from around the world watched year after year wondering if Susan Lucci would ever win a Daytime Emmy award. Finally, last year she received her long-overdue reward for her hard work.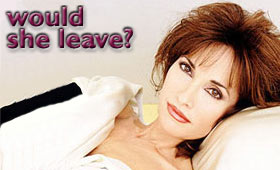 This past December, Lucci got a chance to take a break from the day-to-day grind of filming a soap opera. During this time she tackled yet another difficult task --- Broadway. Lucci subbed for the vacationing Bernadette Peters in the Broadway musical, Annie Get Your Gun.
Lucci's three-week stint in the musical drew various reactions. Magazines proclaimed 1999 as "The Year of Lucci" and celebrated her determination and guts for taking on such a huge undertaking. Others felt that Lucci's appearance in the play was nothing more than a publicity stunt. After all, to many people daytime dramas aren't considered a reputable acting job.
These same critics never expected Susan Lucci to wow the audiences. Erica Kane never sings --- so how was she going to pull this off? From her first note, Lucci held the audiences captive. Her role in the play has since ended, but now there's talk that she may take a trip back to Broadway.
Bernadette Peters' contract with the musical expires later this year. By all reports, she will not re-sign. Peters has been seen in numerous plays, including Into The Woods and in television shows and movies. The producers have no intention of bringing down the curtains on the show --- so a replacement would have to be found.
Sources close to the production have hinted that Lucci would be their first choice as Peters' replacement. That said, it'd be impossible for Susan to continue on both All My Children and Annie Get Your Gun. One would have to be turned down.
Speaking under the agreement of anonymity, someone close to the production said that they felt Lucci would take the Annie job. "Making a transition out of daytime might lend more credibility to her acting," said the source. Of course doing so would mean that Lucci would have to walk away from her rumored $1 million per year salary at AMC.
A leave doesn't have to be permanent. The actress could very easily find a way to take some time off the show. She could be imprisoned or there's always the "assumed dead" trick.
There has been no official word from Lucci's camp about the possibility of the Emmy award-winning actress moving to Broadway.
---
INS AND OUTS: WHO'S COMING AND WHO'S GOING