For several weeks, Walt Willey (Jackson Montgomery) and the executives at AMC have been engaged in contract talks. In a statement about the contract talks, Willey told fans, "I have every intention of negotiating in good faith with [the show] and I am sure that they intend the same. The outcome, of course cannot be known."
Well, Jackson fans, the outcome is now known: Walt Willey will be staying in Pine Valley for some time to come.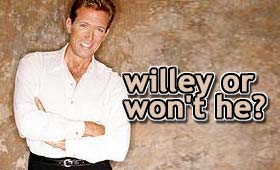 Fears surfaced last month when it was reported that Willey and ABC were having difficulty agreeing to terms on a new contract. An insider had told Soap Central that the network wanted Willey to take a pay cut in order to remain on the show.
While neither side is speaking publicly about the specifics of the new deal, Willey has confirmed to Soap Opera Central that he has signed a new three-year contract.
From the moment the initial report surfaced that Willey could be leaving the show, The Jackson Posse, an Internet fan site, took to action to get fans to "fight with all we have to keep him on the show!" It is unclear if the campaign convinced the network to make concessions to Willey or if there was additional compromise. Similar campaigns by Internet fans worked for Robin Mattson (ex-Janet) and, in 1999, Michael Nader (Dimitri).
The webmistress of the Jackson Posse web site, tells Soap Central that an online chat will be held at a future date to celebrate Willey's new contract.