Newcomer Alicia Minshew has been cast in the role of Kendall Hart, the eldest daughter of Erica Kane. The casting announcement confirms an earlier Soap Central report about Kendall's upcoming return to Pine Valley.
Viewers will remember that Kendall was last played by Sarah Michelle Gellar, who won an Emmy for her work in 1995. Gellar has since gone on to find fame in the title role of the UPN series Buffy: The Vampire Slayer as well as a host of feature films. Gellar's contract with UPN did not permit her to return to work on AMC.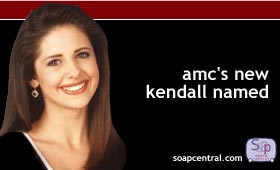 When Kendall was last seen, she was leaving town with Del Henry to go to stay with her ailing adoptive father, Bill Hart. Before leaving, Kendall and Erica were able to make amends and their rocky relationship seemed to be at least partially patched up.
Winsor Harmon, who played Del Henry, Dixie's half-brother, has since moved on to find success as The Bold and the Beautiful's Thorne Forrester. Harmon just signed a long-term contract with B&B, so his return to AMC is also not going to materialize.
Casting calls for a character named "Candy" went out earlier this fall. It was believed at the time that the character would be a new one. However, an insider hints - and several other soap outlets are reporting -- that the character's name was just a smokescreen to keep fans from finding out about Kendall's return.
Even before the calls for Candy, rumors that Del would return to Pine Valley began to surface. There was initial speculation that Del would help usher Cady McClain's Dixie Martin off the canvas. McClain announced last month that she would be leaving AMC. According to an AMC insider, Del will not be returning to Pine Valley.
Minshew is expected to make her AMC debut by year's end. A search of her previous acting experience turned up two previous gigs: 1999's Hit and Runway and Gameday. Additionally, Minshew has appeared in the Off-Off-Broadway plays Love And Betrayal and Beggar on Horseback. A request for a photo of Ms. Minshew was not immediately answered by her publicist.
An ABC spokesperson declined to comment on this story.