SOAPnet, the Disney-owned 24-hour cable soap channel, has announced plans to run a marathon of vintage All My Children episodes featuring original cast member and Daytime Emmy winner Susan Lucci (Erica Kane).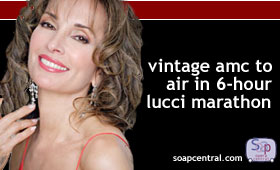 The marathon, cheekily dubbed "I Love Lucci," will feature six episodes hand-picked by Lucci. For several of the episodes, this is the first time that they will be rebroadcast since they originally aired.

Here are the episodes that are scheduled to air:


March 15th, 1970: Erica proves herself a force to be reckoned with as she pursues Jeff Martin.
April 20th, 1970: Erica reveals her big plans for life in her famous, "I want to be special and I am going to be!" malt shop speech.
November 27th, 1979: Tom Cudahy confronts Erica about her secretly using birth control pills.
February 16th, 1983: Erica shoots a commercial at the Metropolitan Museum of Art.
November 25th, 1986: Erica tries to bust Jeremy Hunter out of prison via helicopter.
February 9th, 1988: Erica gives birth to Bianca.
November 13, 2000: Erica, high on Libidozone, hops on a piano and sings at The Valley Inn.
The special "I Love Lucci" marathon will air on February 12, 2005 from 700am to 100pm EST on SOAPnet. Check your local listings for the channel and availability in your area.
---
---
INS AND OUTS: WHO'S COMING AND WHO'S GOING