The mainstream media is abuzz about an upcoming All My Children storyline. Capitalizing on the societal interest in relationships between older women and younger men, Pine Valley's oft-married Erica Kane will soon set her sights on the equally unlucky-in-love Ryan Lavery.
Over the past 39 years, All My Children viewers have watched as Erica Kane has walked down the aisle again, and again, and again. Has it really been that many times? Does the name Erica Kane Martin Brent Cudahy Chandler Montgomery Montgomery Chandler Marick Marick Montgomery mean anything to you?
For his part, Ryan has been married four times in eleven years. He has seen two of his brides end up dead -- one murdered and one presumed dead -- and another who lost her grip on reality.
Exactly when and where the term "cougar" originated is the subject of some debate. One theory claims that the term was spawned by the 2001 book by Valerie Gibson, Cougar: A Guide for Older Women Dating Younger Men. Another states that in the late 1980s, older, single women who attended Vancouver Canucks hockey games were called "cougars."
All My Children, however, insists that its planned Erica and Ryan romance was not developed as a way to capitalize on a hot trend. In fact, show brass insists that the storyline was created as a direct result of fan feedback. Earlier this year, Erica and Ryan were stranded on the side of the road while en route to Philadelphia for a business meeting. Viewers instantly noticed the chemistry, and the writers decided to explore that chemistry in greater detail.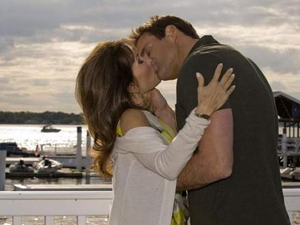 "Certainly the fact that it is a hot topic right now makes it all that more delicious for us," All My Children executive producer Julie Hanan Carruthers said. "It doesn't mean that that is how we're going to tell the story."
Need further proof that the "cougar" relationships are seemingly everywhere?
TVLand, Nickelodeon's cable channel devoted to classic television programs, recently wrapped up a reality series called The Cougar, a show that followed a group of 20-something men competing for the affection of a 40-year-old mother of four.
This fall, ABC will debut a new drama series entitled, Cougar Town, starring former Friends star Courteney Cox as a newly single, 40-year-old mother with a 17-year-old son, who is reentering the dating scene. The pilot for the series co-starred General Hospital's Carolyn Hennesy (Diane Miller).
Known to many as the goofy guy from That 70s Show or Punk'd, Ashton Kutcher rocketed to even greater fame when, in 2003, he started dating Demi Moore (ex-Jackie Templeton, General Hospital), a woman 15 years his senior. The two eventually made their relationship official by walking down the aisle in 2005.
While the mainstream media eats up the impending romance, Carruthers is quick to dismiss claims that the show is trying to sensationalize the plot.
"Everyone watching the show has a sense of [Erica's] vulnerability, her strength, her eccentricities," Carruthers said. "They've gotten to know Ryan just as well. So there's a lot more to it than just, 'oh, my God she wants a younger man' or 'oh, my God, he wants an older woman.' "
Emmy winner Susan Lucci (Erica Kane) agrees, and takes issue with the term "cougar," noting that it implies a "Mrs. Robinson, predatorial" relationship. Lucci does like that Ryan and Erica's extensive and soapy history has a way to make the story far more involved than anything viewers might see in their everyday lives.
"Think about this," Lucci offered. "I slept with his father. He slept with my daughter. There has to be, at a certain point, (thoughts of) what does he know about me? What does he think he knows about me? As an actor, there's so much material to plumb into."
The kickoff for the fledgling romance takes place on June 22, when Ryan gives Erica a kiss on the cheek.