In a recent interview with Internet radio talk show, Stardish Radio, Beth Ehlers (Taylor Thompson) offered her thoughts on her lack of story and what she sees as a failure by the show's writing staff to integrate her character properly into the show.
"As many times as I would casually try to go into my boss's office and say, 'Uh, you are going to start integrating me, right?' When you've been doing this as long as I've been doing it, you know how it's supposed to be done. But you can't tell you bosses that because it's like any other job in the world, you can't know more than your boss because they hate you for it," Ehlers explained. "And so you have to be careful when you go in that you don't tell somebody how to do their job. And I wanted to scream at people. I wanted to go in and say, 'Hello, you're burying me here. You're making this really hard. First you give me somebody who, God bless him, I love JR but he's not an actor.' And so that's hard enough with somebody who... it's going to be a long time before he gets out of second gear. And I'm constantly having to hedge my performance cause I can't be doing Shakespeare while he's doing something else."
The statement apparently upset JR Martinez (Brot Monroe), who took to his Twitter page to express his disappointment with Ehlers' word choice. His response, however, fanned the flames and some fans insisted that the two stars must not get along in real life.
"Apparently there are rumors going around about Beth & J.R. are having a feud between each other," Martinez tweeted on his Twitter page. "C'mon peeps. We're not. I simply didn't agree with her [choice] of words in her radio interview. I never expected her to coach me. Just give tips to help the [storyline]. I believe everyone including myself knows I'm not an actor."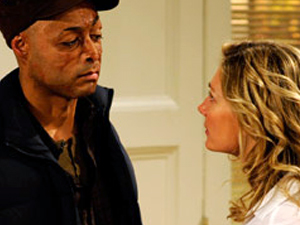 Though Martinez attempted to set the record straight, it didn't stop conspiracy theories. Some fans went as far as to imply that the decision to split the fictional pairing of Brot and Taylor was brought on by the real-life discord between Ehlers and Martinez.
As things continued to spiral out of control, Ehlers and Martinez discussed how they should handle the growing furor. They initially thought it might be best to say nothing. In the end, however, Ehlers and Martinez decided to speak out together and clear the air once and for all. Luckily, Martinez was scheduled for his own guest spot on Stardish Radio, and Ehlers phoned in to let everyone know exactly how she felt about her co-star.
"When JR and I started working together, he took me to endless veterans' fundraisers. I spent four days with him in Florida and he really allowed me to immerse myself in his life. Thus we became friends," Ehlers recounted. "You become friends with someone that you have this kind of intimacy with."
But after the initial radio interview, fans questioned if that friendship was real.
"This thing was just growing and becoming really nasty and really ugly," Ehlers sighed. "I don't need people who don't know us to get involved. It got really mean. And because I live under a rock, I didn't even know about it. JR had texted me and ... I was like, 'Shoot. I really hurt my friend.' I misspoke and I didn't get a chance to qualify it. I just felt terrible."
"You have people in you love in your life, whether it be your mother, father, your wife or husband, and you don't always agree with certain words," Martinez said recalling his initial reaction to hearing the first interview. "I mean that's just a part of life, everyone chooses different words, certain things may come across in a different way."
"We are friends, and we do care for one another, and we did work very hard to tell this story," Martinez added.
In case anyone had any additional doubt, Ehlers offered the following soundbite, "We love each other. We're friends. Stop."
As if being dogged by rumors of a war with a co-star wasn't enough, Martinez's future with All My Children has also been the subject of speculation. For more on that part of the story, click here.