Kelly Ripa (Hayley Vaughan) will temporarily leave her seat next to Regis Philbin behind and return to the world of acting. The Emmy-nominated actress will reprise her role as Hayley Vaughan on All My Children next year. But Ripa won't be making the trek alone. She'll be joined by her real-life and reel-life husband, Mark Consuelos (Mateo Santos).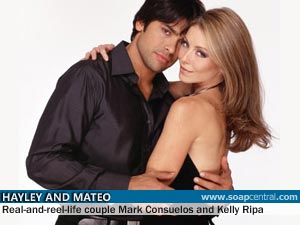 "After many years I've decided to go back to my roots -- my acting roots," Ripa announced. "That's right, I am returning to my role as Hayley Vaughan Santos on All My Children. I'm not just going back. Mark Consuelos is coming with me. Hayley and Mateo are going back to their crazy love-making on All My Children."
Ripa and Consuelos will return for a pair of episodes slated to air in conjunction with All My Children's 40th anniversary on January 5, 2010. This will mark the first time that either of the performers has appeared on All My Children since they exited the show in 2002. The pair's scenes will be taped prior to the ABC soap's relocation to Los Angeles.
Since leaving All My Children, Ripa has seemingly been everywhere. She currently serves as co-host of the popular morning talk show Live with Regis and Kelly, a position she landed while still appearing on AMC. Ripa also co-starred in the primetime comedy, Hope & Faith, in which she played a down-on-her-luck former soap star. Outside of acting, Ripa has appeared in television commercials for Best Buy and Commerce Bank.
Consuelos, meanwhile, has made several guest-starring appearances in primetime, including Law and Order: Criminal Intent and Ugly Betty. Last season, Consuelos also served as a panelist for weekly discussions on the Oprah Winfrey Show.
Ripa and Consuelos' two-day appearance will air January 4 and 5.
Photo Credit: ABC