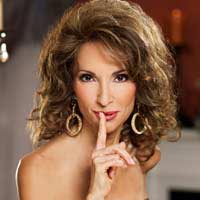 Lucci to lead Christmas Parade
By
Dan J Kroll

Posted Sunday, November 08, 2009 8:47:16 PM
Susan Lucci (Erica Kane) has been named the Grand Marshal of the Hollywood Christmas Parade. It's just another in a long list of honors for the Emmy-winning actress.
"I am thrilled and honored to serve as the Grand Marshal of the 2009 Hollywood Christmas Parade," Lucci said in a statement. "I am so happy that this year's parade will be telecast for the first time ever as a two-hour primetime television event, spreading holiday cheer and happiness to Americans across the country. The Hollywood Christmas Parade is for children and families, both of whom are very important to me in my personal life. Soon All My Children will be relocating from New York to Los Angeles in January 2010 where the show will be filmed in the years ahead. I'm looking forward to working in Los Angeles and enjoying the beautiful sunny weather in the Southland."
The parade takes place on November 29 in Hollywood and will be taped for broadcast on the MyNetworkTV channel on December 10 and December 24. Check your local listings for the time and channel in your area.



---
INS AND OUTS: WHO'S COMING AND WHO'S GOING