Raising Kane. Erica Kane: Beyond the Pain. Having It All. Television's Erica Kane has written more than her fair share of autobiographies. Now, the woman behind Erica Kane is preparing to pen a memoir of her own.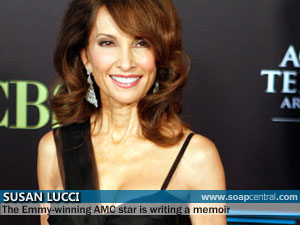 Emmy-winning actress Susan Lucci (Erica Kane) is writing a memoir, due out sometime next year. The book, which will be published under HarCollins' It Books banner, will offer Susan's accounts of both her personal and professional life. The still-untitled autobiography will chronicle the highs -- such as her Emmy win -- and lows, including personal tragedies such as a "devastating car accident and miscarriage."
"Lucci will reveal information on her devastating car accident, her miscarriage, and the joy that came with finally winning an Emmy in 1999 after 18 previous nominations," a press release said of the book. "She recounts her experiences on Broadway, performing to sold-out audiences across the country as a cabaret, nightclub performer, and as a celebrity dancer on Dancing With The Stars. Named one of Barbara Walters's 10 Most Fascinating People, Lucci will give readers an intimate look into her life as a daughter, wife, mother, grandmother, philanthropist, entrepreneur and iconic actress."
"I am so excited to share my life experiences with my fans," Susan said. "It Books gave me the extraordinary opportunity to tell my story."
Lucci is the only remaining original cast member currently on contract with All My Children. The actress and her on-screen persona are in the midst of a two-month long vacation.
Photo: ABC
---

RELATED STORY
Listen to Walt Willey's appearance on Soap Central Live.
INS AND OUTS: WHO'S COMING AND WHO'S GOING