All My Children fans were given quite a sweet treat today when Kelly Ripa (Hayley Santos) and Susan Lucci (Erica Kane) took on their former Pine Valley alter egos for a very special segment on Live! With Kelly and Michael.
The actresses played the characters that daytime fans love along with Bravo host Andy Cohen, who was able to make his lifelong soap acting dream come true by taking on the role of Clark Fletcher Martin.
Check out the fun video below then let us know how it made you feel to see Ripa and Lucci play Hayley and Erica again.
And we're not trying to start any soapy battles, but the Live! scene sure does look an awful lot like the Daytime Emmy smackdown in our 2014 Soap Central Emmy coverage. Hmm... check out the photo below or watch the video and you decide.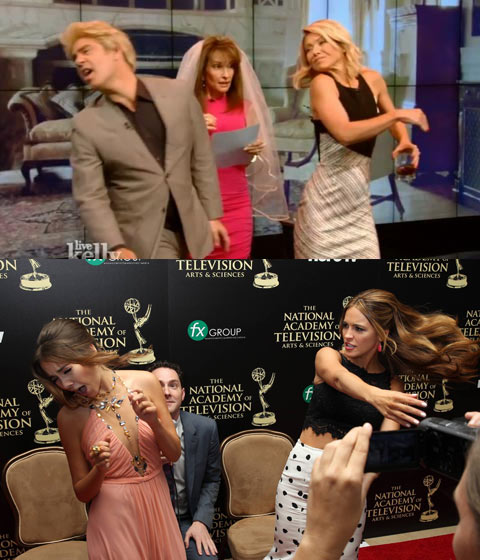 What did you think about the AMC re-do? How much do you miss AMC's Hayley and Erica? We want to hear from you -- and there are many ways you can share your thoughts.