Ending weeks of speculation, Peyton List (Lucy Montgomery) has announced that she will leave As the World Turns at the conclusion of her contract.
Rumors that List might eventually leave As the World Turns first surfaced this summer. Prior to joining the show, List had appeared in only one other project -- a 1998 film called Conjuring Aurora. Since joining As the World Turns in December 2001, List has landed a handful of primetime guest appearances as well as a role in the feature film The Greatest Game Ever Played.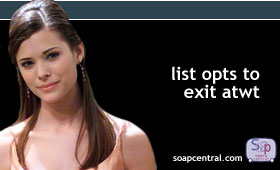 Several months ago, the As the World Turns casting department put out a casting call for a character that sounded an awful lot like Lucy - but the character was given an alternate name so as not to arouse suspicion. The search is ongoing; however, there is reportedly some ambivalence among execs as to whether or not the role should be recast at this time. The exit comes as a particularly bad time for As the World Turns; List has become quite popular among viewers and her character is suddenly in the foreground as part of a front burner storyline.
List will make her final appearance on January 24.