DANKIES UPDATE:
The All-Soaps final ballot is now open for votes.
Click here
to cast your votes before Sunday, May 18th, 2014.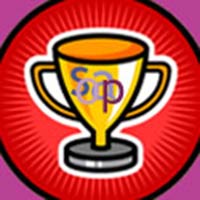 The 13th annual soapcentral.com Dankies Awards
Celebrating the best of The Bold and the Beautiful
The
soap
central
.com
Dankies awards are the only completely fan-selected awards honoring the best of soaps. Over the course of a three-month long process, fans make their nominations and subsequently vote for their choices for the best in a series of categories.
Following are the final results of the 2012-2013 Dankies for The Bold and the Beautiful. Winners are marked with a right angle quote (»).
Outstanding Lead Actor
» Don Diamont (Bill Spencer, Jr., B&B)
68 %
John McCook (Eric Forrester, B&B)
19 %
Ronn Moss (Ridge Forrester, B&B)
11 %
0 %
Outstanding Lead Actress
» Susan Flannery (Stephanie Forrester, B&B)
41 %
Katherine Kelly Lang (Brooke Logan, B&B)
23 %
Heather Tom (Katie Logan, B&B)
13 %
Hunter Tylo (Taylor Hayes Marone, B&B)
21 %
Outstanding Supporting Actor
» Scott Clifton (Liam Spencer, B&B)
43 %
Adam Gregory (Thomas Forrester, B&B)
20 %
Winsor Harmon (Thorne Forrester, B&B)
9 %
Jacob Young (Rick Forrester, B&B)
26 %
Outstanding Supporting Actress
Linsey Godfrey (Caroline Spencer, B&B)
2 %
» Jacqueline MacInnes Wood (Steffy Forrester, B&B)
57 %
Kimberly Matula (Hope Logan, B&B)
31 %
Alley Mills (Pamela Douglas, B&B)
7 %
Outstanding Newcomer
Crystal Chappell (Danielle Spencer, B&B)
20 %
» Linsey Godfrey (Caroline Spencer, B&B)
36 %
Jon Hensley (Dr. Meade, B&B)
30 %
Hillary B. Smith (Stacy Barton, B&B)
12 %
Outstanding Younger Performer
Linsey Godfrey (Caroline Spencer, B&B)
8 %
Adam Gregory (Thomas Forrester, B&B)
42 %
» Kimberly Matula (Hope Logan, B&B)
46 %
2 %
Most Attractive Male Star
Texas Battle (Marcus Walton, B&B)
11 %
Scott Clifton (Liam Spencer, B&B)
19 %
» Don Diamont (Bill Spencer, Jr., B&B)
44 %
Adam Gregory (Thomas Forrester, B&B)
23 %
Most Attractive Female Star
Katherine Kelly Lang (Brooke Logan, B&B)
13 %
Kimberly Matula (Hope Logan, B&B)
25 %
Heather Tom (Katie Logan, B&B)
5 %
» Jacqueline MacInnes Wood (Steffy Forrester, B&B)
56 %
Favorite Storyline
Forrester v. Logan: The Next Generation: Hope and Liam are overjoyed as they celebrate their impending Italian wedding, unaware that dark forces are poised to tear them apart. Bill's manipulations rope Steffy into a conspiracy and bring Deacon back into Hope's life, culminating in the sabotage of the wedding. The hapless lovers are torn apart. In the aftermath, Hope and Liam are still drawn together despite his relationship with Steffy. (B&B)
24 %
Motherhood Blues: Katie's dangerous pregnancy puts her at odds with loved ones who want her to put her own health first. Katie refuses and nearly dies in childbirth. The trauma convinces Katie that her child is destined to grow up without a mother, causing her to manipulate Brooke and Bill into falling for one another. Taylor's successful diagnosis of post partum depression saves the day. (B&B)
13 %
» The End of A Legend: The return of Stephanie's cancer prompts her to meet her impending death on her own terms. As her loved ones gather in grief, Stephanie chooses to go out with style and grace, facing her mistakes with aplomb, and making things right wherever possible. Brooke and Stephanie embrace one final reconciliation. After one last grand party, Stephanie dies in Brooke's arms. (B&B)
55 %
6 %
Least Favorite Storyline
» Forrester v. Logan: The Next Generation: Hope and Liam are overjoyed as they celebrate their impending Italian wedding, unaware that dark forces are poised to tear them apart. Bill's manipulations rope Steffy into a conspiracy and bring Deacon back into Hope's life, culminating in the sabotage of the wedding. The hapless lovers are torn apart. In the aftermath, Hope and Liam are still drawn together despite his relationship with Steffy. (B&B)
53 %
Motherhood Blues: Katie's dangerous pregnancy puts her at odds with loved ones who want her to put her own health first. Katie refuses and nearly dies in childbirth. The trauma convinces Katie that her child is destined to grow up without a mother, causing her to manipulate Brooke and Bill into falling for one another. Taylor's successful diagnosis of post partum depression saves the day. (B&B)
29 %
The End of A Legend: The return of Stephanie's cancer prompts her to meet her impending death on her own terms. As her loved ones gather in grief, Stephanie chooses to go out with style and grace, facing her mistakes with aplomb, and making things right wherever possible. Brooke and Stephanie embrace one final reconciliation. After one last grand party, Stephanie dies in Brooke's arms. (B&B)
15 %
1 %
Favorite Character
Brooke Logan (B&B)
15 %
Hope Logan (B&B)
20 %
» Steffy Forrester (B&B)
46 %
Stephanie Forrester (B&B)
17 %
Least Favorite Character
» Hope Logan (B&B)
45 %
Liam Spencer (B&B)
12 %
Steffy Forrester (B&B)
19 %
Taylor Hayes (B&B)
22 %
Most Memorable Moment
Cabin Fever: Steffy and Liam passionately reunite in Brooke's cabin. (B&B)
15 %
Life And Death: Katie's quest to bring her child into the world nearly ends tragically as she flat lines in labor. (B&B)
10 %
Rip It Real Good: Liam tears up the annulment papers and kisses Steffy. (B&B)
25 %
» The Death of a Legend: Brooke sings Stephanie down memory lane as Stephanie dies in her arms. (B&B)
48 %
Favorite On-Screen Couple or Duo
Bill Spencer and Katie Logan (B&B)
7 %
Eric Forrester and Stephanie Forrester (B&B)
20 %
Liam Spencer and Hope Logan (B&B)
26 %
» Liam Spencer and Steffy Forrester (B&B)
45 %
Most Missed Performer
» Susan Flannery (Stephanie Forrester B&B)
46 %
Adrienne Frantz (Amber Moore, B&B)
13 %
Ron Moss (Ridge Forrester, B&B)
21 %
Jack Wagner (Nick Marone, B&B)
18 %
Outstanding Special Guest or Recurring Role
Crystal Chappell (Danielle Spencer, B&B)
13 %
Adrienne Frantz (Amber Moore, B&B)
26 %
Joanna Johnson (Caroline Spencer, B&B)
10 %
» Sean Kanan (Deacon Sharpe, B&B)
49 %
Outstanding Overall Performer
Scott Clifton (Liam Spencer, B&B)
1 %
Don Diamont (Bill Spencer, Jr., B&B)
5 %
Susan Flannery (Stephanie Forrester, B&B)
18 %
Linsey Godfrey (Caroline Spencer, B&B)
0 %
Adam Gregory (Thomas Forrester, B&B)
0 %
Winsor Harmon (Thorne Forrester, B&B)
0 %
Katherine Kelly Lang (Brooke Logan, B&B)
10 %
» Jacqueline MacInnes Wood (Steffy Forrester, B&B)
37 %
Kimberly Matula (Hope Logan, B&B)
16 %
John McCook (Eric Forrester, B&B)
0 %
Alley Mills (Pamela Douglas, B&B)
0 %
Ronn Moss (Ridge Forrester, B&B)
0 %
Heather Tom (Katie Logan, B&B)
4 %
Hunter Tylo (Taylor Hayes Marone, B&B)
2 %
Jacob Young (Rick Forrester, B&B)
1 %
0 %