Though unconfirmed by either side, rumors are swirling about a possible return to The Bold and the Beautiful for Kimberlin Brown.
Brown, who left the CBS soap to play Rachel Locke on Port Charles in July 1999, has failed to have the dramatic impact on the ratings that ABC execs had hoped for. Reportedly, the actress only signed a one-year contract with the fledgling soap --- and the expiration date on that contract has long since passed.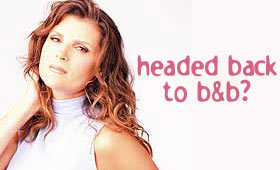 Though fans of The Bold and the Beautiful may be rooting for Brown's return, there are still a few questions to answer about how the actress would return. Brown's character, Sheila, has little redemption value --- even if the writers worked their magic to wheedle her back into the show. So, some are wondering if Brown would show up as a look-alike.
A source at ABC insists that Brown will not be leaving Port Charles --- at least not any time soon. The actress is tied up in front burner storylines through the November Sweeps period. After that time, however, all bets are off.