Outraged viewers may find some comfort in the reports that Ashley Lyn Cafagna has left The Bold and the Beautiful.
An insider with the show reports that the actress hasn't been spotted on the set for at least several days, though officially a CBS spokesperson denies that the actress is gone.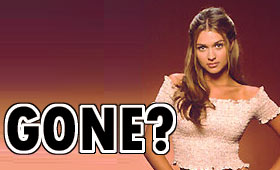 Fan fury started swirling earlier this year when Kimberly suddenly transformed into a teenage temptress; it was the beginning of a love triangle between Cafagna's character, Thorne and Brooke. Many fans wrote to Soap Opera Central / B&B Online to express their displeasure with what they saw as an illicit affair between a teenager and a man much her senior. In fact, one B&B Online volunteer providing Daily Recaps decided that she might not be able to continue viewing the show because of the storyline.
There's speculation that Kimberly's abrupt attitude change limited the writers. Surely the character could not revert back to a normal teenager after what she's been through.
A show spokesperson declined comment and Cafagna's camp had not returned calls placed by Soap Central.