The Bold and the Beautiful execs have finally confirmed what B&B Online/Soap Central first reported on December 10th: Ashley Lyn Cafagna (Kimberly Fairchild) is no longer a part of the show's cast.
According to an official statement from the show, Cafagna's departure is storyline-dictated. There are still rumors fluttering that the writers could very easily have kept Kimberly as an integral character on the show's canvas. Others, however, argue that the writers fumbled by rapidly transforming Kimberly into a teenage seductress.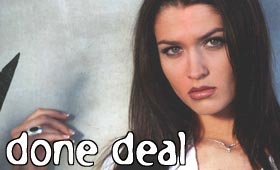 "We wish her the best of luck in all her future endeavors," says B&B executive producer and head writer Bradley Bell.
Those other endeavors could easily involve a singing career. Cafagna has displayed her vocal prowess on the show on several occasions in the past and there are reports that the actress has wanted to spread her wings and pursue a career in song. It is this ambition that had at least one set insider hinting that Cafagna's departure may have been her own choice and not that of the writing team.
Cafagna joined The Bold and the Beautiful in 1998 and her final airdate is scheduled for January 26.