HOW THE STORY UNFOLDED
Soap Central has been on top of Hunter Tylo's contract talks since we broke the news of her exit back in October. Here is a timeline and corresponding articles to help you follow each step of Tylo's B&B ordeal.

OCT 9: Tylo tapes final B&B scenes.

OCT 22: Money was reason for exit.

NOV 5: Tylo announces she's returning.


As cries of a publicity stunt are being shouted on message boards across the Internet, actress
Hunter Tylo
(
Taylor Hayes Forrester
) has confirmed that she will be re-joining the cast of The Bold and the Beautiful.
On October 9, Tylo filmed what was said to be her final scenes with B&B. After months of intense negotiations, Tylo and B&B execs were unable to come to terms on a new contract. According to Tylo's official web site, the network had asked that she take a pay cut in order to remain with the show.
Now, however, comes word that Tylo is returning to work at B&B - thought the actress insists that her exit and subsequent return were not part of a publicity stunt.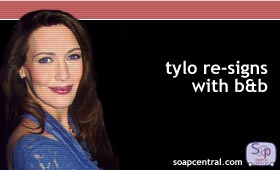 "If it were [a stunt]," says Tylo, "it cost me six weeks of work and it DEFINITELY came out of MY pocket. I truly don't have that kind of PR money, nor do I have time for the headaches this ordeal put me through. I had completely severed ties with the show."
Tylo was quick to deny some internet postings that she had demanded upwards of $1 million per year to remain on B&B.
During the four weeks since Tylo's exit, fans have flooded CBS, Soap Opera Central and various soap magazines with letters of support for Tylo demanding that the show do whatever it had to in order to get her back on the cast list.
So what was it that made the difference? Tylo says that a series of phone calls from B&B executive producer and head writer Bradley Bell convinced her to re-open communication with the soap.
"He spoke with me very professionally, but at the same time, like a friend," explains Tylo. Tylo also urges her fans to send their thanks to Bell "for going that extra step to [reach] a resolution."
Tylo has declined to comment on the terms of her new contract, however she does reveal that she plans to be with the show for "the next couple of years." A show spokesperson reminds us that they "do not comment on contract status" of their stars.
Tylo's character will be absent for a few weeks on-screen. According to a set-side source, the disappearance will be addressed within the show's storyline. It is expected that Tylo will once again be seen on-air in mid-to-late December.



Y&R star dumped, then quickly rehired. [Aug 13, 2001]