The collapse of energy giant Enron has had all the makings of a perfect soap opera plot - company bigwigs apparently on the take, suicides and shredded documents. But now the story really does have a soap opera angle.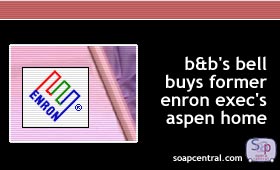 Bradley Bell, executive producer and head writer of The Bold and the Beautiful, and his wife, Colleen, have purchased the Aspen, Colorado home of former Enron Chairman Kenneth Lay. The couple paid $10 million for the home.

The Lays paid $1.9 million in 1991 for the three-bedroom house, which is situated on a three-acre lot near downtown and has views of Aspen Mountain. The 43-year-old house was extensively renovated in 1993. The sale of the home - at $3,330 per square foot -- makes it's the most expensive per-square-foot sale in Aspen history; the previous record, according to published reports, was $1,260 per square foot.

Bell, 37, declined interviews, but the show's publicist did answer questions regarding the sale. "Mr. Bell does not know Mr. Lay, and has no ties to the Enron Corp.," said the show's spokesperson.

The Bells own another home in Aspen. It is unclear if they intend to hold onto that house as well or sell it. The Lays, however, have two additional properties on the market.