Last year was an incredibly good year for The Bold and the Beautiful at the Daytime Emmys. The show tallied two major victories with wins by
Justin Torkildsen
(Rick Forrester) and
Adrienne Frantz
(Amber Moore) in the Younger Actor and Actress categories, respectively.
So how does a show top itself? Well, it goes out and wins even more Emmy trophies.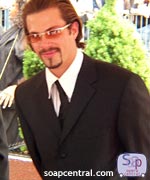 Prior to the televised Emmy ceremony, The Bold and the Beautiful had already won an Emmy. The win, for live and direct to tape sound mixing, came in the previous week's Creative Arts Emmy ceremony.
The Bold and the Beautiful pulled off a back-to-back victory in the Younger Actress field as
Jennifer Finnigan
(Bridget Forrester) followed in co-star Adrienne Frantz's footsteps. The Canadian-born Finnigan clearly appeared to be enjoying herself - even before winning her Emmy. Finnigan was all smiles on her trip down the red carpet prior to the Emmy ceremony. Though she was pegged as a favorite to win the category, Finnigan downplayed expert predictions, saying that every nominee is worthy of victory and that "no one is a shoo-in." This was Finnigan's first Emmy win and her first ever nomination.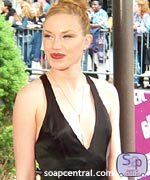 In the final moments of the show, The Bold and the Beautiful picked up its second acting award of the evening - but it was also the start of a chaotic Emmy mishap. When the envelope was ripped open and the Lead Actress winner's name was announced, the All My Children theme music played loudly in the background. The only problem was that the winner was The Bold and the Beautiful's
Susan Flannery
(Stephanie Forrester). Backstage, a stunned
Susan Lucci
(Erica Kane) mouthed Flannery's name - until it appeared that someone had told her that
she
had won the award. Lucci's hands trembled as her eyes widened and she made her way onto the stage. Fans immediately flocked to the Soap Opera Central message boards to voice their outrage of the mixup.
For her part, Flannery confessed that she hadn't expected to be named the winner. She expected Lucci's co-star
Finola Hughes
(Anna Devane) to pick up the prize. "In my book, you are the best," Flannery said to Hughes.
Flannery also expressed disappointment that The Bold and the Beautiful had not been nominated in the writing category.
By night's end, The Bold and the Beautiful had amassed three Emmy wins out of nine nominations.
CLICK HERE FOR COMPLETE COVERAGE OF THIS YEAR'S EMMYS