Ian Buchanan (James Warwick) will return to The Bold and the Beautiful this month.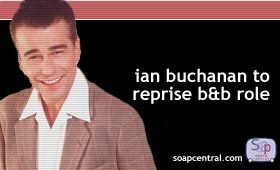 With the return of Buchanan's former on-screen wife, Kimberlin Brown (Sheila Carter), Buchanan's return seemed inevitable - or at least Internet fans felt that way. However, Buchanan's reprisal of his Emmy winning role wasn't always a done deal.
Buchanan has been actively courted by ABC's All My Children for several months. The show reportedly wants the actor to play Duke Lavery, a role Buchanan played on General Hospital from 1986 to 1989. Talks between AMC and Buchanan reportedly have hit a roadblock. Buchanan's return engagement on The Bold and the Beautiful is only short-term and there has been no immediate indication by show execs that they want Buchanan back as a contract player.
Since leaving The Bold and the Beautiful, Buchanan has found success in several feature films. Most recently, Buchanan appeared in the Jodie Foster thriller Panic Room.
Buchanan makes his return to The Bold and the Beautiful on August 22nd and 23rd.