The casting shakeups at The Bold and the Beautiful continue. Just a matter of weeks after the announced dismissal of two contract players, a show spokesperson now confirms that Courtnee Draper (Erica Lovejoy) will be exiting.
Draper joined the cast of The Bold and the Beautiful in April and quickly assumed a front burner status. Draper's character was involved in one of the biggest soap secrets in recent memory - the return of Kimberlin Brown's Sheila Forrester.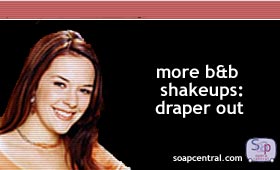 It remains unclear why the show has opted to dump Draper's character. The official explanation is that Draper's exit is "storyline dictated." Internet rumors and insider chatter signal that the changes might be brought on my more than just a shift in storytelling.
According to setside sources, B&B's head writer and executive producer, Bradley Bell, wants to take the show in a new direction. The proof would seemingly come from Bell's decision to get rid of newcomer Rick Hearst (Whipple Jones) and long-time B&B heroine Hunter Tylo (Taylor Forrester) [Click here for more information]. With Draper's exit, Brown's short-term return is also going to be coming to an end.
After her run ends, Draper plans to head to school to study either law or interior design. The actress has no immediate plans to tackle another soap role.
Draper's final airdate is October 22nd.