The Bold and the Beautiful was already making news with its photoshoot in Portofino, Italy, but apparently the show felt that there was still some noise to be made. On November 3rd, the show announced that actress Bobbie Eakes (Macy Alexander) would be returning to The Bold and the Beautiful.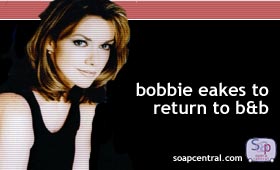 For a few weeks, internet rumors have claimed that Eakes would return as a Macy look-alike or as a ghost haunting husband, Thorne. While Eakes did reprise her role briefly - in a spirit form -- in July 2001, a spokesperson for The Bold and the Beautiful insists that Eakes will be back as the real Macy. Exactly how the show will explain her appearance as a "ghost" remains to be seen.
In spite of the fact that the announcement of Eakes return was already a big reveal in itsekf, the show was not at all forthcoming with details surrounding Macy's return. For example, where has Macy been for the past two years? Macy was presumed dead in an explosion in 2000. A spokesperson grinned broadly and stated that viewers would have to tune in to find out.
Macy's return has also brought about rumblings that Michael Swan (ex-Adam Alexander) will be returning to the show in the near future. A show spokesperson declined to comment on the rumor.
Eakes' first airdate was not immediately made available, but it is expected to be in early December.