The Bold and the Beautiful has been hit by yet another wave of casting changes. In the latest batch of "firings," the show has taken three performers off contract.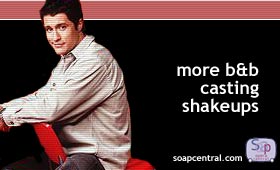 Luigi Amodeo (Lorenzo), Tamara Davies (Tricia Quick) and Michael Dietz (Mark Maclaine) have all been taken off contract. Dietz made his debut on the show on October 2nd, 2002, while Davies joined the cast of The Bold and the Beautiful on October 29th. Amodeo joined the show much more recently, debuting during the show's on-location shoots in Portofino in December.

Dietz's character was initially brought in as a third wheel in Bridget and CJ's relationship. The writers, however, moved towards uniting Bridget and Ridge - and Mark was left as the odd man out. Davies' character, meanwhile, was introduced as a therapist to help Ridge get over the loss of his wife, Taylor. She also seemed poised to be more than just a shoulder to cry on. As for Amodeo, his exit is said to be storyline dictated.

According to a show spokesperson, all three characters can be utilized in a recurring capacity. The move also allows the show to save on salaries for performers that might otherwise see little airtime as contract players.

No final airdates have been announced for any of the three performers.