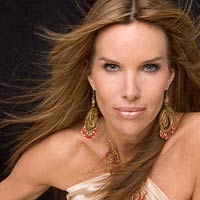 Buxton's B&B run cut short
By
Dan J Kroll

Posted Sunday, March 20, 2005 3:46:39 PM
In a surprising move, Sarah Buxton (Morgan DeWitt) will be exiting The Bold and the Beautiful next month. The news to write out Buxton comes as fan reaction to her character's return was less than overwhelming.


Buxton was informed by B&B's head writer and executive producer, Bradley Bell, that her character was being written out because fans objected to having Morgan split up Ridge and Brooke.

The news of her exit surprised Buxton, who had signed a one-year contract with the show. The actress made her first return appearance on March 7th. Previously, Buxton appeared from February 2000 through May 2001 on the CBS soap.

Fans of Buxton and her character should not despair. Even though the actress is again leaving the show, the door will be left open for her to return at a later date.



---
INS AND OUTS: WHO'S COMING AND WHO'S GOING