How do you feel about the release of Kayla Ewell as B&B's Caitlin?


I'm upset. Ewell was a fine actress and played a good role.
53%
It's a good move. I'm glad that Ewell and Caitlin are out.
22%
I really don't care one way or another.
9%
I liked Ewell's work, but I didn't care much for Caitlin.
7%
Other
6%
I really think B&B should have recast the role.
2%
Poll Posted: August 7, 2005
Another relatively new face on The Bold and the Beautiful will no longer be seen. Newcomer
Kayla Ewell
's (
Caitlin Ross
) contract with the show was not renewed.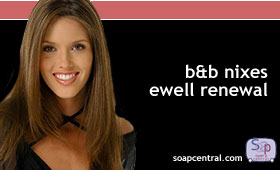 Ewell joined the cast of the half-hour CBS soap in January 2004. During that time, head writer Bradley Bell introduced several new families in the fold. At the time, Bell expressed a desire to infuse some new blood into the show rather than simply focusing all of the show's plots on the Forrester family. Fan reaction to the new characters was lukewarm at best and ratings took a dip.
Though nothing official has been issued by the show, insiders are speculating that
Lorenzo Lamas
(
Hector Ramirez
) may also be on his way out. The high-profile star was brought in during February 2004, but the actor has had little in the way of storyline since.
Ewell most recently aired on July 22nd. It is unclear if the character will continue to appear on a recurring basis or simply be written out of the show entirely.
Read our exclusive chat with Adrienne from the 2005 Daytime Emmys.