Are you glad that Lesley-Anne Down re-signed with B&B?


Yes. I'm a fan and I have really enjoyed her work as B&B's Jackie.
82%
This is good news, but I hope the writers give her a decent storyline.
7%
No. I don't really care for Jackie and would rather she be written out.
4%
It doesn't really matter to me if Down stays or goes.
3%
Other
3%
I haven't made up my mind yet, so I can't offer an opinion.
0%
Poll Posted: January 23rd, 2006
Forget what you read elsewhere -
Lesley-Anne Down
(
Jacqueline Payne
) is not leaving The Bold and the Beautiful. Though talks did go down to the wire between the actress and network executives, a B&B spokesperson confirms that Down has inked a new contract with the show.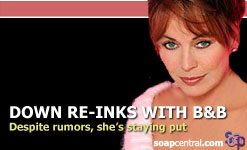 During the contract talks between Down and CBS, stories surfaced that Down, in a snit over the direction of the talks, cleaned out her dressing room and stormed off, vowing never to return to the set again. The rumor apparently started as a result of coincidence. At about the same time that she was in contract talks, Down states that she took down many of the items hanging on the walls in her dressing room. The plan was to have her dressing room repainted.
Rumors of a temper tantrum were not the only issues plaguing Down at the time. On December 10th, the actress had a brush with death after accidentally overdosing on kava kava, an herbal supplement used to combat anxiety. On top of that, Down was already reeling from the death of a close family friend.
The overdose, which shut down Down's body for up to three minutes, left Down temporarily paralyzed and unable to walk normally for two days.
Down is doing much better now and is prepping for a front burner storyline in the weeks ahead. Down's new contract has her re-upping for another three years with the show.