What is your reaction to the addition of Patrick Duffy to the B&B cast?


I think having Brooke's dad come back will be great for the storylines.
39%
It's great. I'm a big Dallas fan, so it will be nice to see 'Bobby' again!
30%
I'm not interested in seeing Duffy come aboard or in Brooke's dad.
13%
I am indifferent about Duffy and the return of Stephen Logan.
7%
This reeks of stunt casting. CBS did this only as a way to boost ratings.
7%
I'm not familiar with Duffy's work, so I can't really offer an opinion.
3%
Other
1%
Poll Posted: March 7, 2006
The Bold and the Beautiful created quite a stir when
back in March
the show announced that former Dallas star Patrick Duffy (Stephen Logan) would be joining the cast. But in spite of the hubbub caused by the announcement, Duffy will soon be on his way out.
B&B head writer/executive producer Bradley Bell has revealed that it was his intention all along to bring Duffy aboard for a ten-week story arc. The news of Stephen's impending exit will come as no surprise to Duffy as the actor and Bell mutually agreed upon the short-term gig.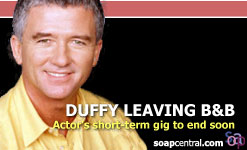 The good news for B&B execs is that Duffy might not be available much longer anyway. Duffy recently wrapped work on a pilot for CBS. The network has not yet revealed if that show will be picked up for the fall season.
For fans that have enjoyed seeing Duffy on The Bold and the Beautiful, a spokesperson for the show states that Duffy will continue on in a recurring capacity. Exactly how often the actor will be seen has yet to be determined. However, a setside sources tells Soap Central that the show had been developing a major storyline for Duffy's character.
Duffy's final regularly scheduled on-air appearance is tentatively scheduled for late June. The network has not issued a "final" airdate since there is hope that Duffy will continue on after his short-term deal expires.



Dallas star Linda Gray to make B&B appearance. [Jan 17, 2005]