The cast of The Bold and the Beautiful is about to come on down! This week, the CBS soap crosses paths with television's longest-running game show, which is also one of the most popular, The Price is Right.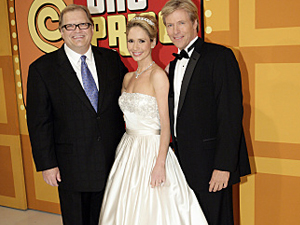 This week, Donna Logan and Pam Douglas (played by Jennifer Gareis and Alley Mills, respectively) take a trip to see a taping of The Price is Right. To their surprise, at least one of them is told to "come on down" to Contestants' Row. Drew Carey, who took over hosting duties two years ago from the legendary Bob Barker, and announcer Rich Fields, will make special appearances at themselves in the episodes that will air on June 17 and June 18.
On Friday, June 19, Jack Wagner (Nick Marone) and Ashley Jones (Bridget Forrester) will model wedding attire during a special "The Ultimate Wedding Shower" edition of The Price is Right. The B&B stars' appearance will give viewers a sneak peek at what their characters will be wearing during their fictional wedding, which will be broadcast on June 24 and June 25.
During the special episode of The Price is Right, Dane Everly and Crystal Bryer from San Diego, are called as contestants, and Dane takes the opportunity to get down on one knee and propose to Crystal -- who accepts.
Photo Credit: Monty Brinton/CBS
---