The Bold and the Beautiful will get a little musical later this month, as country music recording artist Beau Davidson drops by the CBS soap to perform his new single, "You're All I Ever Wanted."
"Beau is an up and coming young artist with a compelling voice and a great look," executive producer and head writer Bradley P. Bell announced. "When I heard his acoustic version of 'You're All I Ever Wanted,' I knew it would be the ideal fit for the story I was about to tell. His sound is fresh and distinctive, a perfect blend of romance, soul, country and rock n' roll."
Davidson appears as himself on Tuesday, March 30, and Friday, April 2, 2010, when he performs "You're All I Ever Wanted," a song that he "wrote" at the request of Whip Jones in honor of Taylor Hayes.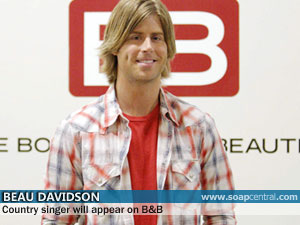 Born in Memphis and raised in the traditions of gospel music and inspired by the music of Elvis Presley, Al Green, and Otis Redding, Davidson began taking classical piano lessons at age five but tried to squeeze in some time with his teacher to learn "Great Balls of Fire." He was soon winning regional talent competitions, and appeared in the Mid-South Fair Youth Talent Competition, an amateur contest once graced by Elvis, Justin Timberlake, and many others, where he competed as a finalist. He moved to Chicago when he was accepted at Northwestern University's prestigious School of Music, where he graduated magna cum laude with a degree in vocal performance and political science. Although trained operatically, Davidson had a difficult time relinquishing his Memphis roots and began writing original music that captured his Memphis experience. He soon moved to Los Angeles, where he began to write a library of songs that captured his unique sound.
Davidson's debut single, "More Than I Can Give" was the song that catapulted his career, and his accompanying music video marked his introduction into the Nashville music scene and landing on the websites of CMT, GAC, MTV, VH1, Yahoo, and the American Music Channel. He garnered international media attention when asked to pen and premiere an honorary lullaby for Keith Urban and Nicole Kidman's daughter, Sunday Rose. Beau won CMT's Music City Madness original song contest with his song, "Mr. Wrong." In November, 2009, Davidson was named one of Cosmopolitan Magazine's Hottest Bachelors, the publication's annual profile of the nation's sexiest single guys, representing his home state of Tennessee.
Photo Credit: The Bold and the Beautiful