The music continues on The Bold and the Beautiful.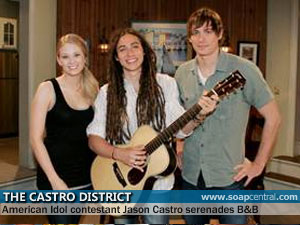 American Idol
alum Jason Castro will appear on an upcoming of B&B as himself. Castro will sing his new single, "Love Uncompromised," in a scene with Hope and Oliver. Castro finished in fourth place in season eight of the popular FOX singing competition. The singer's self-titled debut album is available in stores and online.
Castro is not the first
Idol
contestant to grace B&B. Season four finalist Constantine Maroulis appeared in the recurring role of Constantine on The Bold and the Beautiful in 2007. That same year, Elliott Yamin sang during the show's "Boldface Challenge" storyline.
Earlier this month
, reggaeton superstar Daddy Yankee appeared in several episodes of B&B.
Castro's appearance will span two episodes and air Thursday, July 29 and Friday, July 30.
---
Share this story with friends, family or the world.

SEND TO A FRIEND
Email this article to a friend.

PRINTABLE VERSION
View a printer friendly version of this article
---