Posted Saturday, February 25, 2012 1:13:42 AM
A lawsuit filed against CBS by the street performer known as the Naked Cowboy has been dismissed by a federal judge. The Naked Cowboy, whose real name is Robert Burck, had been seeking $1.5 million in damages.
A federal judge in New York has dismissed a lawsuit filed last year against CBS by the Times Square performer, Robert John Burck, known professionally as the Naked Cowboy.
Burck had contended that the November 2, 2010 episode of The Bold and the Beautiful infringed upon his registered trademark. The episode featured Oliver Jones (played by Zack Conroy) wearing just a cowboy hat, boots, and white briefs. The scene was later posted to YouTube by CBS with the title, "The Bold and the Beautiful -- Naked Cowboy." In addition to posting the clip, the network had purchased keyword advertising using the words "naked cowboy."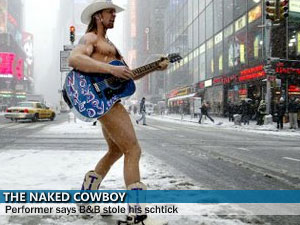 Judge Barbara Jones dismissed Burck's lawsuit, saying that the Naked Cowboy's trademark did not actually appear within the episode of The Bold and the Beautiful. Moreover, the title of the YouTube clip was deemed a non-trademark use, and was used only to describe the content of the clip.
Burck had been seeking $1.5 million in damages.
In February 2008, Burck filed claim against Mars Incorporated, alleging that the candymaker's use of an animation depicting the Blue M&M character playing a guitar while wearing a cowboy hat, cowboy boots, and underwear on a video screen outside the company's Times Square flagship store violated his registered trademark.