With the behind-the-scenes changes at Days of our Lives and recent chatter that the show will be axed in 2009, it is no wonder that some nervous fans are beginning to speculate about the fates of some of the show's stars. The star garnering the most attention from the rumor mill of late is Drake Hogestyn (John Black).
Over the past year or so, Hogestyn has been vocal about his displeasure with his lack of storyline. For soap viewers unfamiliar with Days of our Lives, Hogestyn's character spent much of his on-screen time in a hospital bed in a coma. In May, his character regained consciousness, but he has seen little in the way of airtime since. The actor's displeasure with the way things were going slipped out at a recent fan event, where the actor seemed to imply that his exit from the show was imminent.
"At some point, everybody is going to leave the show," Hogestyn said at a fan event in June. "I have six months left on my contract, so… After 20 years of throwing fan club gatherings, this is the final mission. The reality of it is, sooner or later, you're at the tail [end] of your talent cycle, whether it be here or somewhere else."
With Hogestyn's dissatisfaction so well known, a rumor has hit the Internet that incoming co-executive producer Ed Scott warned the cast and crew, "If you out, you're out." While no one will confirm that Scott even uttered those words, if true it would seemingly be an advisory to the show's cast to keep their opinions to themselves.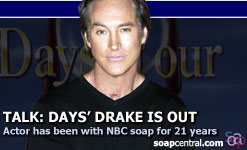 This has not been an easy year for Hogestyn off-screen either. As 2006 drew to a close, a fan trespassed onto Hogestyn's property and terrorized the actor's family. The fan apparently believed that Hogestyn was possessed by the devil and wanted to perform an exorcism on him.
A spokesperson, meanwhile, for Days of our Lives insists that Hogestyn has not been fired even as the covers of two soap magazines question the actor's future with the show.
"Drake Hogestyn has not been let go," a show spokesperson tells Soap Central.
Despite the rep's assurance, Internet conspiracy theorists are already discounting the statement as network-ordered publicity.
Hogestyn joined the cast of Days of our Lives in January 1986.