Viewers still suffering disappointment from Days of Our Lives' recent cast cuts may find comfort in the return of a fan favorite. Actress Arianne Zuker (Nicole Walker) will return to the show this spring, ending a two-year absence from the NBC soap. With the return, comes a new name for the actress. Zuker has dropped her professional surname and now uses her birth name: Zucker.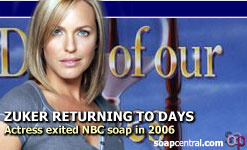 Zuker began negotiating a return to Days of our Lives in December. Whispers about these negotiations made their way to the Internet shortly thereafter. When the actress didn't show up on-screen in the next few weeks, many dismissed the talk as nothing more than idle chatter.
In several published interviews, Zuker admitted that she was surprised by the show's decision to contact her about a possible return. The actress says she didn't have to think twice before agreeing to head back to the studio.
The details of Zuker's return are being kept under wraps by the network. It is, however, expected that Nicole will be figure prominently in storylines involving Sami and E.J. and Chloe and Phillip.
After eight years with Days of our Lives, Zuker exited the NBC soap in February 2006. The actress expressed her desire to pursue projects outside of daytime television as the main reason for her exit.
During her time away from Days of our Lives, Zucker developed and launched Lowd Suga', her own line of handcrafted jewelry. The line's name is a play on the actress' maiden and married names - Lowder, for husband Kyle Lowder (ex-Brady Black; Rick Forrester, The Bold and the Beautiful), and Zuker, which means sugar in German.
Zucker's post-DAYS projects have not included much acting, though the actress did film the feature film The Last Resort.
Zucker makes her return to Days of our Lives on April 2.