Soap opera veteran
Robin Mattson
will join the cast of Days of our Lives this fall. The four-time Emmy-nominated actress has appeared previously on seven different soaps.
Mattson will play the role of "Lee," a woman whose first scenes will be opposite another
recent high-profile DAYS hire
,
Stacy Haiduk
. Considering that Haiduk will be playing a prison warden, the stage is set for yet another of Mattson's popular jailhouse friendships.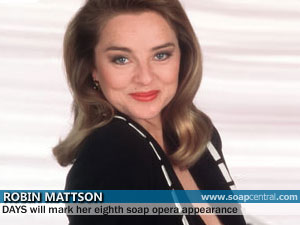 When Mattson joined the cast of All My Children in 1994, her character,
Janet Green
, was behind bars. Her character quickly befriended
Kendall Hart
(then played by Sarah Michelle Gellar).
In 2003
, Mattson found herself playing the short-term role of Sugar on CBS's The Bold and the Beautiful. Again, Mattson's alter ego was in the hoosegow. This time her best friend was bad girl
Sheila Carter
(played by actress
Kimberlin Brown
).
Mattson's on-screen personas weren't all jailbirds, but most of them were often on the wrong side of the law. On General Hospital,
Heather Webber
was believed to have committed a murder, and she sold her child on the black market. More recently,
during her stint on As the World Turns
, Mattson played a madam.
In 1976, Mattson began her daytime career as
Hope Bauer
on Guiding Light. She also earned
three consecutive Daytime Emmy nominations
during her eight-year run on Santa Barbara.
Earlier this year, there was speculation that Mattson might be headed to The Young and the Restless. Those rumors, however, were unfounded.
It's too soon to predict whether or not Mattson and Haiduk will form some sort of bond, but the very idea that it's possible has many daytime fans drooling.
Soap Opera Weekly
reports that Mattson will first air sometime in October.
---
Share this story with friends, family or the world.

SEND TO A FRIEND
Email this article to a friend.

PRINTABLE VERSION
View a printer friendly version of this article
---