DAYS Recaps: The week of November 19, 2007 on Days of our Lives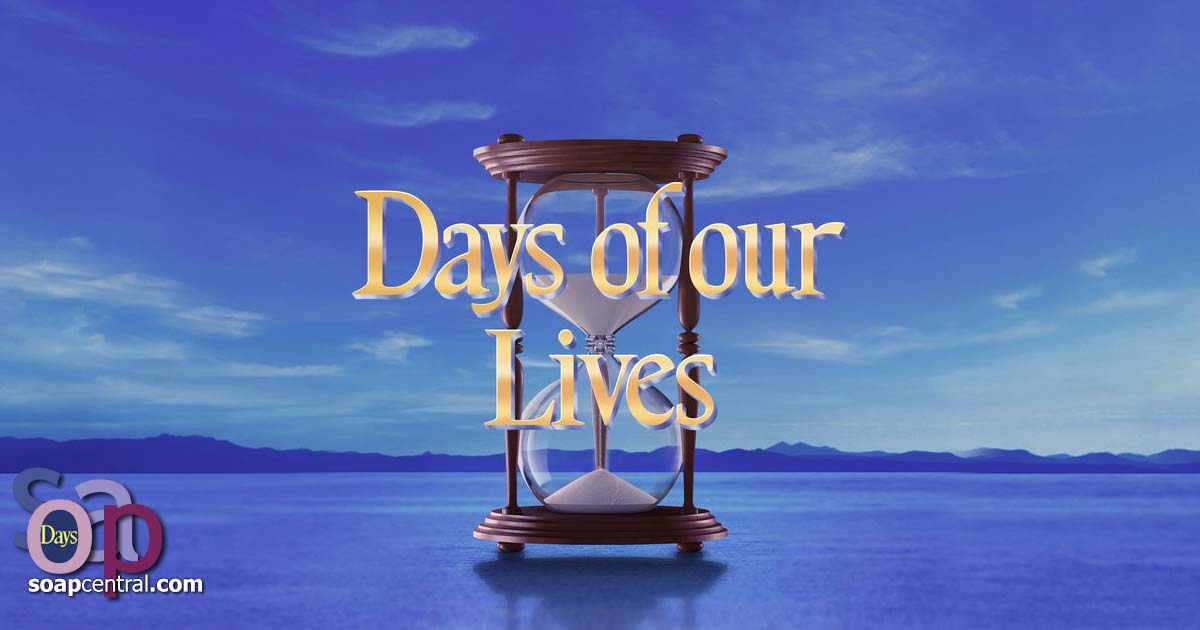 Monday, November 19, 2007
Sami finally succeeds in convincing E.J. she truly cares for him. He promises that with her help and support, he'll fight to get his health back. Knowing what her deception may cost her, Sami rushes out of the room. Stefano shares with Sami his belief that she loves his son. He promises to leave her family alone if E.J. recovers. Later, Elvis' fever breaks. Stefano is disconcerted when E.J. says he doesn't want his son separated from Sami. Stefano makes clear that his grandson will be raised according to DiMera family traditions.
Roman shows Kate a bagged gun he claims to have found in a dumpster behind her building. He threatens to arrest her for attempted murder. A savvy Kate smells a set-up and gets him to admit it's not her gun. Roman appeals to her to come clean. She gives in, saying she told Philip to get rid of the gun she took to the DiMera Mansion (she doesn't admit she went to the church). Philip joins his mother at the station and freaks when he hears what she told Roman. Philip pleads the Fifth and drags his mother off.
Later, Bo escorts Steve to the station with the gun from the pub. Roman surprises Bo with a revelation; it's his gun. He explains Steve was protecting him. Steve went to the church to get revenge against E.J., but he ran into Roman, who had a gun. Roman couldn't bring himself to shoot E.J., and after the shooting, Steve covered for him by hiding the weapon.
Philip makes another desperate plea to Belle to call off her wedding to Shawn. Belle maintains she's very much in love with Shawn, and asks that Philip respect her wishes. Later, Shawn picks up on Belle's inner turmoil, but she assures him she's not having second thoughts. Once alone, she continues to feel the pull toward Philip and debates whether to call him on his private line.
Tuesday, November 20, 2007
On the eve of her wedding to Shawn, Belle visits Hope, who has decorated her home for the ceremony. Hope gently probes to make sure Belle is happy with her decision to marry Shawn. Belle tries to allay Hope's fears, but is mortified when Hope admits she talked to Kayla about the affair. Belle insists Philip is out of her life. Hope cautiously gives Belle her blessing.
Meanwhile, a miserable Philip drowns his sorrows at the Cheatin' Heart. He tells bartender Max that Belle is the only woman who can see him for who he truly is. Max advises him to move on. Later, Philip receives a call from Belle.
Morgan visits Max at work to invite him to meet her parents on Thanksgiving. He declines, citing he'll be in a wedding tomorrow. Morgan notes Stephanie will be there, and Max is amused by her jealousy.
Stephanie arrives at her parents' suite to take a pregnancy test in private. However, Kayla catches her. Stephanie reminds her mother of the night she made out with some guy to get back at Max. She reveals they did more than make out; they had sex. Kayla offers her support to a grateful Stephanie. While Stephanie is in the bathroom, Steve comes home and finds the pregnancy test box. Kayla covers that it's hers. Steve confides that if Kayla is really pregnant, he'd be okay with that. Stephanie, not knowing her father is home, walks out with the test stick.
Sami is hurt and stunned to hear Lucas allowed Will to leave for Switzerland without consulting her. She's also upset that Will didn't want to see her. She reads Will's good-bye letter, which says she's hurt the family, and he hopes she'll remember where she really belongs. Lucas announces he wants full custody of their daughter if Sami won't give up on E.J. Sami says she can't. Lucas gives her an attorney's number so they can work out a custody agreement.
Wednesday, November 21, 2007
An upbeat Shawn spends his last evening before his wedding with Hope and Bo. He accidentally overhears Hope sharing with Bo her concerns regarding Belle and Philip. When questioned, Hope covers and says she's just worried Philip might try to spoil their day. She thinks Bo should talk to Philip about not coming, but Shawn insists on doing it himself.
Belle visits Philip at his office. Philip, believing Belle has had a change of heart, is crushed when he realizes she's coming to sob on his shoulder about Shawn's family. Philip surprises Belle by telling her he doesn't care and brushes her off. A stung Belle says she thought they could be friends, but Philip says being her friend is not an option. She starts to leave, but Philip stops her. He accuses her of trying to keep him dangling on a string. Things heat up to the point where they kiss and are moments from making love when Shawn calls and interrupts. Shawn tells Philip not to come to the wedding tomorrow. By the time Philip hangs up, Belle is gone.
Stephanie and Kayla attempt to prevent Steve from finding out that Stephanie has taken a pregnancy test. Later, mother and daughter are greatly relieved to learn the test is negative. Kayla urges Stephanie to come home for the holiday and tells her to invite Cordy, too. Once Stephanie leaves, Steve questions Kayla and gets the truth out of her. Kayla begs him not to tell Stephanie he knows. Steve feels useless, but is glad their daughter came home when she needed help.
Chelsea, Morgan, Cordy and Carmen stop off at the Cheatin' Heart after posting fliers all over campus warning that Ford Decker is a rapist. Stephanie later joins them. Billie arrives and tells them she's beefing up security by installing surveillance cameras at the sorority houses. Billie asks Chelsea to move home, fearing Ford will target her. Chelsea believes their campaign will take care of him, but an angry Ford shows up with a fistful of fliers in hand. He threatens them with harassment and taunts Cordy until Chelsea socks him in the jaw. Adrienne chases him off, but not before he whispers to Stephanie that she's a slut. Chelsea is more determined than ever to stand up to Ford.
Thursday, November 22, 2007
Due to the Thanksgiving holiday, NBC opted to air The National Dog Show from Philadelphia in place of Days of our Lives. No new episodes were broadcast. This schedule change was accounted for and there will be no "lost" episodes as a result of the programming change.
Regular broadcasting will resume on Friday, November 23rd.
On behalf of everyone involved in Soap Central, I would like to extend our sincerest thanks to everyone who takes time out of their day to visit the web site. While many people belittle soaps and soap fans, I am so glad to know that there are thousands upon thousands of people out there that welcome us into their homes (or sneak us into their office computers. Shh! We won't tell!) on a regular basis. It's not just our content that makes us the best soap opera web site on the 'net - it's the loyalty of our wonderful visitors.
Dan J Kroll
Founder, soapcentral.com
PS: If you have time between plopping meals, this is the perfect time to check out some of the features you may never have visited on our site. On the left-hand menu of any page you can find oodles of great features - About the Actors actor biographies, Who's Who character profiles, a list of Birthdays of the stars and much more. And don't forget that you can interact with other soap fans on our Message Boards. Or tell the world a little about yourself, your soap opera likes and dislikes and much more in our Blogs area.
Friday, November 23, 2007
On the day of Shawn and Belle's wedding, Billie keeps Philip company. He's sure the wedding won't happen and reveals he sent Belle a reminder of their love.
Meanwhile, the bride and groom get ready for the ceremony at Bo and Hope's house. Hope is suspicious when Belle receives a call from Philip, but she covers and says it's Mimi. In private, Belle warns Philip to leave her alone. Marlena and Belle take a moment to remember John, while Shawn and Chelsea talk about Zack. Shawn receives a watch he believes is from Victor, but when Belle walks down the stairs towards her groom, she's stunned to see it's the watch she gave Philip for his birthday. Belle is overcome with memories of Philip, but she suppresses them and marries Shawn.
The Bradys and Hortons gather at the pub to celebrate the wedding and Thanksgiving. Doug gives a stirring speech about family. After the reception, Hope finds Belle's cell phone. Conflicted, she listens to Belle's voice message from Philip, and learns she met with him the night before the wedding.
Lucas reveals the name of his daughter: Alice Caroline Horton – Allie for short. Sami is hurt and angry that she wasn't part of the decision.
Marlena skips the reception and goes to Stefano, begging him to let Sami end her marriage to E.J. Stefano says he will, but he wants Marlena in return. Marlena reminds Stefano of all the pain he's caused her and vows to kill him.
Stephanie and Cordy have a fun time at Steve and Kayla's when Ford shows up, pounding on the door. Before leaving, he lets loose a series of threats, scaring both girls.