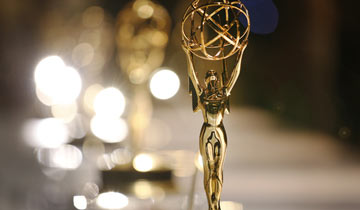 THE 29th ANNUAL DAYTIME EMMY AWARDS
soapcentral.com panelists predict the Emmy winners: Lisa Christine Svenson
By
Dan J Kroll

Posted Thursday, May 09, 2002 10:03:54 PM
Lisa Christine Svenson is, at present, an unpublished writer who does not watch any soap operas (or much other television, for that matter). Her opinion has been sought because it is totally random, and sometimes a random opinion is like a lottery ticket...it's a shot in the dark, but maybe, just MAYBE it'll be the right one. And like the lottery ticket, if you don't play, you don't win (and Lisa, in addition to not watching television, does not buy lottery tickets). Lest she seem totally lifeless, Lisa actually DOES venture forth from the confines of her home on occasion to perform drama for Senior Citizen groups and in churches.
The Young and the Restless: My highly informed reason for this decision is that every living creature in this house that is under the age of 11 (including rodent, canine, and feline, as well as human, inhabitants) is distracting me as I try to research exactly which choice I should make, while at the same time minimizing the effort involved. There is simply no way to research all that has happened in each of the programs over the course of the last year, so I'm permitting the young and restless members of my household to make the decision for me.
Vincent Irizarry (David Hayward, All My Children) The clear choice for two reasons. 1. He is the kind of doctor a woman would NOT want to go to because doctors never see us when we're at our best (and one would want to look one's best when seeing him). 2. He went to Berklee, which impresses me simply because I like the aura of the campus (and because I'm not sufficiently talented to go there).
Finola Hughes (Anna Devane, All My Children) I have chosen Ms. Hughes, also for two reasons. 1. She is playing a role in one soap that she made famous in another, which beats playing a role in the same show that has been played by three previous actresses. 2. In college, my roommate was madly in love with Finola, and she would be devastated if I made any other choice.
Josh Duhamel (Leo du Pres, All My Children) This man once wanted to be a dentist. This says a lot (always looking down in the mouth, is he?) Also, his character history was somewhat less confusing than others I perused, although it is twisted in its own special way.
Beth Ehlers (Harley Davidson Cooper, Guiding Light) Anyone who appears in a movie with David Bowie gets points from me. Also, playing a character named for a motorcycle has to be a strain. And she clearly likes her cat, which my cats find acceptable.
Brian Presley (Jack Ramsey, Port Charles) This was undecided (he helps disadvantaged children, and another candidate helped handicapped people ski, and charity earns big points with me) until I read his character profile. This is a dead guy. He's been dead a while (his character, I know). He was buried by teenagers and nobody found out. I'd say you have to be a pretty good actor if you're nominated for awards even while dead (and, one would assume, poorly buried).
Eden Riegel (Bianca Montgomery, All My Children) She is the SIXTH person to play in this role! How confusing is that? Having to meld all those other characters into herself must be an actress' worst nightmare. I admire the fact that she is studying at Harvard (on leave, but not dropped out), and that she clearly wants a career in politics, or at least experience in politics. She's multidimensional, and that's a good thing.
One Life to Live: Last year Passions got my vote, with as much viewing as this year's choice (i.e. none). My reason for my choice is that One Life To Live has caused me to think (rare occurrence, but it does happen from time to time). I hope the writers of this program are using that one and only life to leave a positive mark on their world because, as the title clearly implies, they aren't getting a second chance. This is a lesson we could all do well to live by.