For the third year in a row, soapcentral.com is taking you inside the gift bags given to all Emmy presenters. This is your chance to be ahead of the curve and find out what's hot before everyone else does. Plus, it will give you a chance to feel like Hollywood in your own neighborhood.
This year featured numerous different products that are not only stylish and useful, but also extremely affordable to those of us that do not have a soap star salary.
Please note: All links will open in a new window. As these sites are maintained by companies other than Soap Central, we are unable to provide technical assistance or be held responsible for their content.
Skorcher
Do you want a better-looking butt? According to Bret Contreras, the inventor of the new exercise system called Skorcher, 9 out of 10 women don't like their behinds.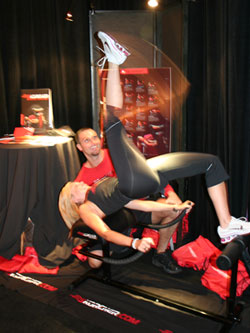 Contreras watches as an assistant does some hip thrusts.
Conventional wisdom tells us that the best way to get a better posterior is by doing squats or lunges. While those two exercises are great for toning up, Contreras states that his Skorcher system is "302% better" than conventional exercises.
So what's Skorcher got that you can't get from doing regular squats? The hip thrust. The position may look a little risqué, but the Skorcher allows for more range of movement than any regular exercise. In fact, the Skorcher replaces nine traditional pieces of exercise equipment, yet somehow manages to allow you to do 23 free weight and body weight exercises. And, the apparatus is small enough to store under your bed-assuming you don't have an evil twin tucked away under there.
The claims aren't being made by an inventor interested in selling you a product that you really don't need. This guy knows what he's talking about. Contreras is a Certified Strength and Conditioning Specialist (CSCS), a Nutritionist and a Certified Personal Trainer (CPT) and has trained as an athlete, bodybuilder, powerlifter and mixed martial artist.
The Skorcher retails for about $299 and there's an "Xtreme" version that offers even more exercises for $649. For more details, check out www.skorcher.com
Vera Bradley
Let's face it. We've all been at the baggage carousel at the airport, waiting and waiting for our luggage to come spinning by. More than likely, we've all also given someone the evil eye when they've ogled our suitcase, thinking that is was theirs. That's because most suitcases, in their palettes of black, blue, green, and an occasional red, look exactly the same. In short, luggage lacks a personality-a spark-maybe even a fizz.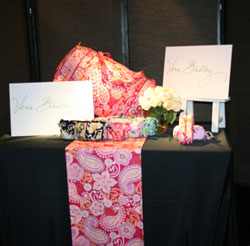 The Raspberry Fizz duffel bag, background, with assorted cosmetics cases.
Vera Bradley, a line of feminine-looking luggage, offered one of its best-selling products, the Raspberry Fizz duffel to this year's Emmy presenters. The bag allows you room to put your workout clothing, a matching cosmetics bag and even the paternity test papers that you switched at the hospital-and it's small enough to be carry-on compliant. If raspberry isn't really hue, er, you, there are at least a dozen other colors that you can choose from. Feeling blue? Check out the blues, greens, and aquas in the Peacock pattern. What something more whimsical? Then perhaps Pink Elephant is more your style.
Christel Khalil (Lily Winters, The Young and the Restless) squealed with delight upon seeing Vera Bradley products in the gift lounge. Khalil explained that her Y&R character totes around a Vera Bradley bag when she goes to the gym, but that she didn't own anything from the line.
Unlike some other big name designers, you won't have to save up for a year or wait until Christmas to add to your collection. There are items available for under $25 (a large cosmetic bag, notepad and sunglass cases) as well as gifts over $75 (the duffels sell for about $80).
For more information, check out www.verabradley.com.
Lierac
Have you ever thought of going into your local drug store and getting beauty tips? At select drug stores, you can now do just that. Lierac Paris has launched a new collection of anti-aging skincare products in the U.S., and the company has devised a "store within a store" concept to help you find the best product for your skin type.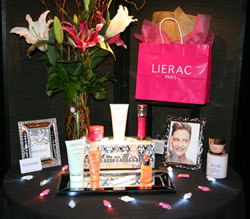 Selections from the Lierac line
The Lierac line was devised by a French physician, specializing in aesthetic disorders. Lierac uses plant-derived products to respond to each specific skin problem. For example, if you want to use an anti-aging lotion on your face, but fear doing so because you also have oily skin, Lierac has a product for your unique needs.
Concentré Mésolift: Think of it as an all-in-one magic potion. The product provides the benefits of anti-aging, toning, and radiance, but still can be used under a moisturizer or foundation. The Lierac line of products is available in CVS, Duane Reade, and Eckerd drug stores around the country, and also online at drugstore.com. Select locations in major cities on the East Coast also feature on-site beauty consultants. The line is extremely affordable with most products falling in the $23 to $65 price range.
Ricky Paull Goldin (Jake Martin, All My Children; ex-Gus Aituro, Guiding Light) eyed up the products for some time before asking if they were "bi-sexual." After a brief laugh, he realized that he had meant unisex! To learn more, visit the Lierac web site at www.lierac.us.
Anne Koplik Designs
Jill Koplik is a very busy woman. Each season she designs more than 250 different styles of jewelry for her vintage-inspired Anne Koplik Designs.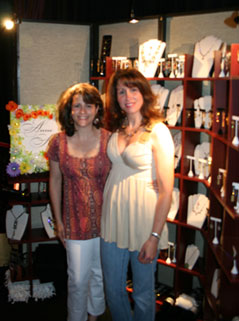 Jill Koplik, left, with her sister.
There are several things that make the Anne Koplik line unique. All Anne Koplik jewelry is made and manufactured in the New York City area utilizing an exclusive 5-part enameling process. Each piece incorporates antique glass stones, freshwater pearls, or Swarovski crystals. More than that, there is no lead or nickel used in the earring wires.
In a display of at least 100 different items, there was one that stood out from the rest: a very simple, yet elegant, pair of dragonfly earrings. Since the jewelry is being offered to television stars, you may assume that it costs a fortune. That is not the case. The earrings, complete with genuine Swarovski crystals, sell for $16. It even has a matching necklace for $38.
If dragonflies bug you, there are also items that do not involve insects. There are stunning crystal-encrusted heart lockets, eye-catching brooches, and dainty crystal-and-pearl drop earrings.
Anne Koplik jewelry is already a big hit with some of the stars of daytime. Whoopi Goldberg wore one of the company's necklaces to this year's Tony Awards. Former Days of our Lives star Martha Madison (ex-Belle Black) purchased all the jewelry for her wedding from Anne Koplik Designs. "They don't match what I'm wearing," said One Life to Live's Erika Slezak (Viki Davidson) of one piece, "but I am getting them anyway!"
Koplik also offered a sneak peek at some of the hottest trends for fall. Three of the hottest colors will be deep purple, deep blue, and deep aqua.
To view the complete line of Anne Koplik Designs, visit their web site at: www.annekoplik.com