For the fourth year in a row, Soap Central is taking you inside the gift bags given to all Emmy presenters. This is your chance to be ahead of the curve and find out what's hot before everyone else does. Plus, this year we are giving you an exclusive opportunity to win an Emmy gift bag of your own!
Like last year, this year's Emmy goodies focused on practicality. The items were not only stylish and useful, but also extremely affordable to those of us that do not have a soap star salary.
Please note: All links will open in a new window. As these sites are maintained by companies other than soapcentral.com, we are unable to provide technical assistance or be held responsible for their content.
Chewylou Designs
This year's Daytime Emmy telecast featured a special "Daytime Gives Back" segment. The mission was to draw attention to the plight of children around the world who do not have enough to eat.
Created to exemplify the good qualities we could all work to develop or enhance in ourselves, the mission of the Chewylou Designs clothing line is to inspire goodness through positive thought, and to promote physical and spiritual strength.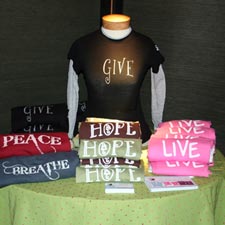 Chewylou Designs clothing
"One day, I thought about the qualities in myself that I would like to enhance. I came up with Enthusiasm, Gratitude, Optimism, or the acronym EGO!" creator Alyssa Dinowitz tells Soap Central. "Later, I sat at my computer and created several other 'blessing' acronyms that struck a chord in my life; qualities that we could all develop or enhance in ourselves: FAITH, HOPE, DREAM, BREATHE, PEACE, LIVE, GRACE... were just the beginning. I was inspired to create the LIVE shirt for my mother, Marriann, who is courageously battling breast cancer for the third time, and all the other brave women battling breast cancer around the world."
Each shirt is screenprinted at Michael's Garden, a non-profit that offers vocational training to adults with special needs. Additionally, a portion of the profits from each sale are donated to various charities.
For more information about Chewlou's products or their mission, please visit: www.chewylou.com
Sam-E
How can you not like a product named after a soap opera character? Okay, so NatureMade's SAM-e Complete wasn't really named after Days of our Lives' Sami Brady.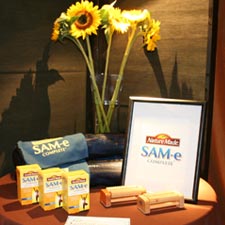 NatureMade's "happy pills," SAM-e
SAM-e (S-adenosyl methionine) is a naturally occurring compound that is found in all living things. It's found throughout the human body and it contributes to maintaining mood levels. As we age, the levels of SAM-e can decline.
When the soap stars dropped by the SAM-e table to pick up their six-month supply of the product, many shared their secrets for staying in a good mood. Susan Lucci said that eating healthy keeps her in a good mood... but that she isn't opposed to the occasional pasta meal or hot fudge sundae. Brandon Buddy stays feeling peppy by regular visits to the gym. Cameron Mathison, meanwhile, shares, "I'm a big believer in doing nice things for people, that keeps me in a good mood!"


SAM-e is available in drugstores, online, and in department stores like Target and Walmart. If you are interested in trying the product -- or even if you already use it -- Soap Central has arranged for our users to be able to download a free $3-off coupon for use on your next purchase of SAM-e. To get the coupon, or for more information, please visit: www.sam-e.com/try/emmy
Holly McClain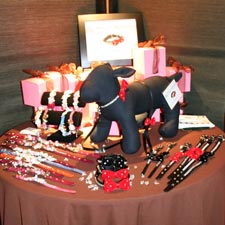 Holly McClain offers wide selection of colors and sizes
Why should looking fabulous be confined to our two-legged friends? This year's gift bag included gifts for our four-legged companions.
Holly McClain has a wonderful line of custom, handmade dog collars and accessories. No two are quite the same, and the designer offers a line of collars and accessories for both male and female pets. There are also numerous sizes to accommodate the smallest to largest pups.
At a price point that fits into any pet owner's budget -- $12 to $32 -- there's no reason why your pet can't have a little "bling" of their own.


To learn more or purchase something from the line, visit their web site at www.hollymcclain.com.
Vera Bradley
Let's face it, we've all been at the baggage carousel at the airport, waiting and waiting for our luggage to come spinning by. More than likely, we've all also given someone the evil eye when they've ogled our suitcase, thinking that is was theirs. That's because most suitcases, in their palettes of black, blue, green, and an occasional red, look exactly the same.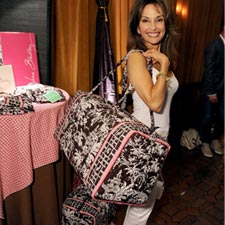 Susan Lucci displays her Vera Bradley bag
Photo Credit: Wire Image
Vera Bradley, a line of feminine-looking luggage, offered one of its best-selling products, the Imperial Toile Large Duffle to this year's Emmy presenters. The bag allows you room to put your workout clothing, a matching cosmetics bag -- and even the paternity test papers that you switched at the hospital -- and it's small enough to be carry-on compliant. The Imperial Toile hits stores later this month.
If the toile isn't your style, the company recently launched a new nylon Jet Set Duffel line. There are also at least a dozen other colors and styles to choose from.
Vera Bradley has also introduced a line of aprons, suitable for chefs of all ages.


For more information, check out www.verabradley.com.
Live the life of a soap star
Have you ever wanted to know what it's like to get free swag? Well, now you can. This year, Soap Central is giving you the chance to score your own Emmy gift bag.
One large Vera Bradley Imperial Toile Large Duffle, a six month supply of SAM-e Complete, one XL long sleeve "GIVE" shirt and one L long-sleeve "LIVE" shirt from Chewylou Designs, one Coby DP-240 Portable 2.4? Digital Photo Album with MP3 Playback, one Holly McClain collar with matching lead, and a coupon for a free pint of Starbucks ice cream. It's a prize package worth over $300!
Winning is easy. All you have to do is send us an email telling us which character leads the most fabulous life on your favorite soap and why. All entries must include the requested information or they will not be eligible for the prize. We'll select our favorite entry as the winner of the Emmy prize pack! To enter, click here!
Deadline for submitting an entry is 11:59pm Eastern, September 14, 2009.