For the fifth year in a row, Soap Central is taking you inside the gift bags given to all Emmy presenters and nominees. This is your chance to be ahead of the curve and find out what's hot before everyone else does.
Perhaps more than any recent year, this year's gift bag featured some ingenious items -- as well as some favorites that will appeal to every taste. The items featured were not only stylish and useful, but also extremely affordable to those of us that do not have a soap star salary.
Please note: All links will open in a new window. As these sites are maintained by companies other than Soap Central, we are unable to provide technical assistance or be held responsible for their content.
Claire Burke
When you watch your favorite soaps, do you notice that the characters all have floral arrangements, dishes of potpourri, and an endless supply of candles burning in the background? Well, you don't have to be a billionaire or have your evil twin steal from your enemy to be able to enjoy those simple luxuries.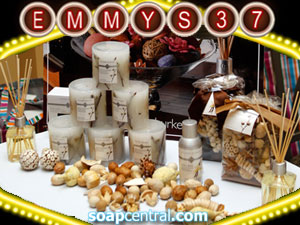 As an interior designer, Claire Burke found that good design wasn't just about visual aesthetics. Having a fragrant accessory in a room can help turn a beautiful room into an exquisite environment. To help all of us accomplish the goal of making the most of our living spaces, Claire Burke launched her own line of affordable, high-quality home fragrances.
No matter how you choose to scent your home, Claire Burke has a product suited for you. Each fragrance line includes potpourri, filled candles, reed fragrance diffusers, votives, home fragrance sprays, and electric fragrance warmers.
The number of fragrances is also endless, tapping into whatever mood or fantasy you'd like to experience. The Original scent is far from ordinary. It combines rose, lavender, patchouli, and spices. Other scents include Vanilla Bean, Wild CottonTM, Slice of SpiceTM, Tropical Flowers, Oh Christmas TreeTM, and dozens more.
Later this summer, Claire Burke launches its latest fragrance creation: Cherry O!TM. A sample of the new fragrance was handed out in the Gifting Suite and tucked safely away in the Soap Central camera bag. Later, when the bag was opened during an interview, a room full of soap stars demanded to know where the scent of cherries was coming from. If the reaction from these stars is any indication of how Cherry O!TM will be received, then the scent will be a huge hit.
» For more information about Claire Burke, please visit: www.myclaireburke.com
GuesstimationTM by Discovery Bay Games
If there's one thing we've learned from soaps, it's that kids grow up fast -- sometimes overnight. Okay, so maybe children in the real world don't grow up
quite
as fast... but it seems that we never get to spend as much time with our loved ones as we'd like. The folks at Discovery Bay Games are actually working to correct that problem.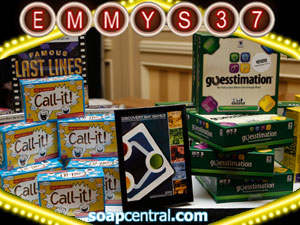 They've launched a new board game called GuesstimationTM that's unlike any other game we've seen. GuesstimationTM is a trivia game where the answer to every question is a number -- sometimes a mind-blowing figure. What are we talking about? Here's a sample question: Italy has 13,788 post offices. How many does India have?
Yeah, that's exactly what we said. The correct answer is 154,919.
Here's another: How many hot dogs are eaten in North America every minute? Chew on this -- the answer is 37,900.
As you can tell from the sample questions, you don't have to be book smart to play the game. GuesstimationTM is suitable for ages 8 and up.
» To purchase GuesstimationTM, please visit: Amazon.com
» For more information about other games from Discovery Bay Games, please visit: www.discoverybaygames.com
Vitabath
For more than 50 years, Vitabath has been one of the top skin cleansing and skin conditioning brands worldwide. But this isn't your grandmother's bubble bath. Vitabath has an entire line of bath products, including soaps, shower gels, and hand crèmes.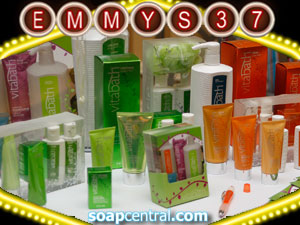 There were two standout products in the Gifting Suite. The first is the Spa Skin Therapy Moisturizing Bath & Shower Gelèe. As you're probably aware, Las Vegas is smack dab in the middle of the desert -- and having a moisturizing bath gel was an absolute necessity. Even if you don't live in an arid climate, the Skin Therapy line can turn your shower into a personal oasis.
In the same vein, Vitabath's luxurious 20% Shea Butter Hand Crèmes moisturize and smooth your hands. You can't be caught on the Red Carpet (or the office, the mall, or a parent/teacher conference) with dry hands.
If you're interested in trying out any of the products, you might want to start with the travel set. You don't have to be traveling anywhere to use them -- but if you are, the items are all suitable for carry-on bags. Each travel set comes with a 2oz Gelèe and Lotion, a 2.5oz Sugar Scrub, a 2.1oz Shea Butter Hand Crème, and a 1.5oz Gelèe Soap.
PS: We're partial to the Citrus Twist® scent.
» To learn more or purchase something from the line, visit their web site at www.myvitabath.com.
Johnny Rockets
Las Vegas has caviar, champagne, sorbet, and anything else you can imagine. But let's face it: every now and again, it's a good hamburger that
really
hits the spot.
Johnny Rockets is an international restaurant chain that opened its first location on Melrose Avenue in Los Angeles in 1986.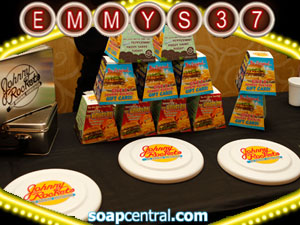 If you've never been to a Johnny Rockets -- and with 280 locations, there's bound to be one near you -- here's what you can expect. Each Johnny Rockets restaurant evokes the feeling of an old malt shop with a fun and nostalgic atmosphere. From the tabletop jukeboxes to the décor to the hand-dipped shakes and malts, it's like a trip back in time. If you're there at just the right time, you'll even be entertained by a song and dance number involving all of the servers.
The hot new product (literally and figuratively) at Johnny Rockets is the Houston, a spicy take on the traditional hamburger. What makes the Houston special? Jalapeños, Pepper Jack cheese, iceberg lettuce, fresh tomato, and a secret spicy sauce. The Houston is only available for a limited time!
All Johnny Rockets hamburgers are made from 100% ground beef and are never frozen. If that sounds tempting, you'd better get a move on. The chain also has a vegetarian option, the Streamliner.
Johnny Rockets also has a wide selection of fountain sodas -- and you can even add your own flavors. Try a Soap Central favorite -- a Coke with cherry and lemon.
» For more information, check out www.johnnyrockets.com.
Skincando
Every now and again, a product comes along that is not only practical and useable, but also has a great story. This is definitely the case with Skincando. Before we tell you all about the great stuff that Combat-Ready Balm can do (and why it's called that), here's a little backstory.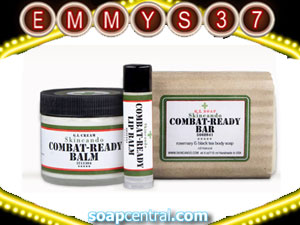 Skincando was created by Sara Damelio. About a decade ago, she landed a job in a Washington, D.C.-area beauty boutique. It was a dream come true for Sara because she thought that she'd have infinite access to skin care products to her acne and other skin problems. She was wrong. Even the most expensive products irritated her skin and caused her even more distress. She decided that she'd have to come up with something on her own. Sara went to school to become an esthetician, and she later experimented with her own products. She eventually devised a batch of natural, organic skin cream that proved a cure-all for combating everything from dry skin and bug bites to eczema.
In 2005, her skin cream made its way to a soldier serving in Iraq, who found it incredibly effective for treating sunburn, dry skin, and sand-flea bites in the harsh desert environment. Damelio started donating care packages of her products (which also include lip balm and soap) to troops, who couldn't get enough of it. Two years ago, she launched a nonprofit organization that allows customers to purchase Skincando products and then donate them to deployed military personnel free of charge. If you have a loved one serving abroad, you can even request that your donation be sent directly to them.
For more information about Skincando, please visit: www.Skincando.com
Honor and Remember
In our nation's history, there has never been an officially recognized symbol that reminds us of the sacrifices made by members of our military who lost their lives in service to our country. The Honor and Remember organization has launched a national campaign to create an emblem that will recognize all individuals who have died as a result of serving in the United States military: the Honor and Remember Flag.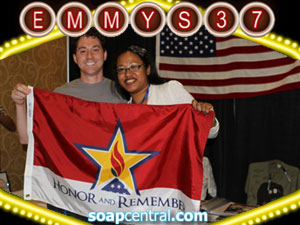 The Honor and Remember Flag features six symbols to honor and remember our fallen servicemen and women. The Red Field represents the blood spilled by our brave men and women. The White Field recognizes the purity of sacrifice. The Blue Star represents active service in military conflict. The Gold Star signifies the ultimate sacrifice of a warrior who will not return home. The Folded Flag signifies the final tribute to an individual life, one that is presented to the family for their loss. The Flame is an eternal reminder of the spirit that has departed this life, yet burns on in the memory of all who knew and loved the fallen hero.
To learn more about their mission, please visit www.HonorAndRemember.org. There, you can sign the petition to persuade Congress to enact a law that will officially recognize the Honor and Remember Flag.
Bramis
When getting Red Carpet ready, a lot of women feel the need to pass on dresses that they otherwise like simply because the dress might be a little too revealing. We're pretty sure everyone has seen at least one celebrity photo that's made them wonder, "What was she thinking?"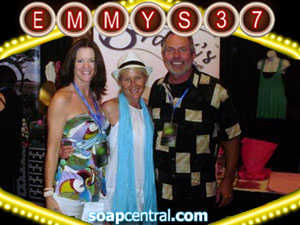 There's a new product available to women that can help them go from too revealing to fabulously appealing. It's not a bra. It's not a camisole. It's a Brami.
What exactly is a Brami? First, it's the brainchild of a woman named Kelley from Georgia. The garment allows women to achieve a "layered look" without having to wear layers. Think of it like a dickey... but for lower on the body. The Brami is a lace-covered, tube top, bandeau bra with removable pads and matching straps. The Brami can be worn with casual wear -- or jazzed up for the evening.
There are three basic colors -- brown, white, and black --- but Bramis come in just about every color you can imagine. In fact, there's even a glittery sequin line that would be perfect for a Las Vegas Red Carpet event. Each Brami is affordably priced around $25
The Brami is currently available in three sizes: Small (32-34C), Medium (34D-36C), and Large (36D-40B). Custom sizes and fabrics are also available upon request.
You can find Bramis in an assortment of stores through the Southern U.S. as well as online. You can also find them on some of daytime's biggest stars. One soap star was seen wearing her Brami around the Las Vegas Hilton. Alley Mills, meanwhile, actually donned a Brami in the Gifting Suite because the blouse that she was wearing was a bit too sheer.
For more information about Bramis, please visit: bramisbykelley.com
TheraPearl
With summertime here, it seems that every family needs to have an ice pack on hand.
TheraPearl was designed by a renowned doctor (and mom) for her patients in her practice to combat the inflammation of minor surgery. Its unique pearl design was inspired by, of all things, a bag of frozen peas. More importantly, TheraPearl isn't confined to the freezer -- it offers both hot and cold therapy. And unlike peas or a regular ice pack, TheraPearl doesn't sweat, it is reusable, and it's versatile.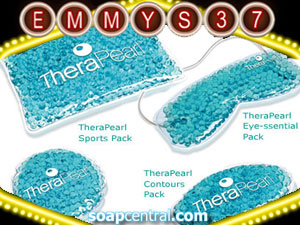 Each TheraPearl pack can be frozen, and the beads will remain fluid, providing comfort as they mold to the contours of the affected area. Pop the pack in the microwave and the heat will help ease aches and pains and increase the blood flow to the area. There is also a built-in safety feature. When the pack approaches room temperature, it's time to take a brief break before applying another compress.
There are five different sizes, each designed to target a specific area of the body. The newest product is a neck wrap that's perfect for a sore neck, and it's extremely lightweight. Another great product is the TheraPearl Eye-ssential Pack, which, as you can imagine, is ideal for the eyes. Put it on if you have a headache or if you just want to chill out.
TheraPearl is perfect for sprains, workout soreness, cosmetic surgery, toothaches, migraines and headaches, hot flashes, arthritis relief, and many other applications. Each pack is reasonably priced at under $20 and is available in upscale salons, pharmacies, and online.
» To purchase a TheraPearl product, please visit: Amazon.com
» For more information about TheraPearl, please visit: www.TheraPearl.com