Behind-the-scenes Emmy coverage: The Emmy gift bag
Posted Monday, July 05, 2010 1:40:04 AM
For the fifth year in a row, soapcentral.com is taking you inside the gift bags given to all Emmy presenters and nominees. This is your chance to be ahead of the curve and find out what's hot before everyone else does.

Perhaps more than any recent year, this year's gift bag featured some ingenious items -- as well as some favorites that will appeal to every taste. The items featured were not only stylish and useful, but also extremely affordable to those of us that do not have a soap star salary.

Please note: All links will open in a new window. As these sites are maintained by companies other than soapcentral.com, we are unable to provide technical assistance or be held responsible for their content. Claire Burke
When you watch your favorite soaps, do you notice that the characters all have floral arrangements, dishes of potpourri, and an endless supply of candles burning in the background? Well, you don't have to be a billionaire or have your evil twin steal from your enemy to be able to enjoy those simple luxuries.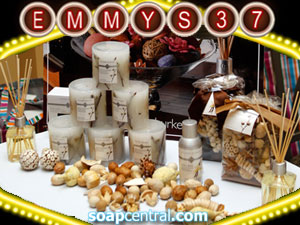 As an interior designer, Claire Burke found that good design wasn't just about visual aesthetics. Having a fragrant accessory in a room can help turn a beautiful room into an exquisite environment. To help all of us accomplish the goal of making the most of our living spaces, Claire Burke launched her own line of affordable, high-quality home fragrances.
No matter how you choose to scent your home, Claire Burke has a product suited for you. Each fragrance line includes potpourri, filled candles, reed fragrance diffusers, votives, home fragrance sprays, and electric fragrance warmers.
The number of fragrances is also endless, tapping into whatever mood or fantasy you'd like to experience. The Original scent is far from ordinary. It combines rose, lavender, patchouli, and spices. Other scents include Vanilla Bean, Wild Cotton
TM
, Slice of Spice
TM
, Tropical Flowers, Oh Christmas Tree
TM
, and dozens more.
Later this summer, Claire Burke launches its latest fragrance creation: Cherry O!
TM
. A sample of the new fragrance was handed out in the Gifting Suite and tucked safely away in the
soap
central
.com
camera bag. Later, when the bag was opened during an interview, a room full of soap stars demanded to know where the scent of cherries was coming from. If the reaction from these stars is any indication of how Cherry O!
TM
will be received, then the scent will be a huge hit.
»
For more information about Claire Burke, please visit: www.myclaireburke.com
Guesstimation
TM
by Discovery Bay Games
If there's one thing we've learned from soaps, it's that kids grow up fast -- sometimes overnight. Okay, so maybe children in the real world don't grow up
quite
as fast... but it seems that we never get to spend as much time with our loved ones as we'd like. The folks at Discovery Bay Games are actually working to correct that problem.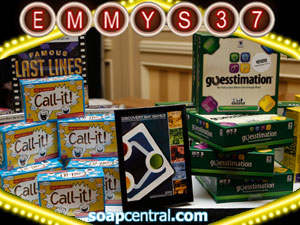 They've launched a new board game called Guesstimation
TM
that's unlike any other game we've seen. Guesstimation
TM
is a trivia game where the answer to every question is a number -- sometimes a mind-blowing figure. What are we talking about? Here's a sample question: Italy has 13,788 post offices. How many does India have?
Yeah, that's exactly what we said. The correct answer is 154,919.
Here's another: How many hot dogs are eaten in North America every minute? Chew on this -- the answer is 37,900.
As you can tell from the sample questions, you don't have to be book smart to play the game. Guesstimation
TM
is suitable for ages 8 and up.
»
To purchase GuesstimationTM, please visit: Amazon.com
»
For more information about other games from Discovery Bay Games, please visit: www.discoverybaygames.com
Vitabath
For more than 50 years, Vitabath has been one of the top skin cleansing and skin conditioning brands worldwide. But this isn't your grandmother's bubble bath. Vitabath has an entire line of bath products, including soaps, shower gels, and hand crèmes.
There were two standout products in the Gifting Suite. The first is the Spa Skin Therapy Moisturizing Bath & Shower Gelèe. As you're probably aware, Las Vegas is smack dab in the middle of the desert -- and having a moisturizing bath gel was an absolute necessity. Even if you don't live in an arid climate, the Skin Therapy line can turn your shower into a personal oasis.
In the same vein, Vitabath's luxurious 20% Shea Butter Hand Crèmes moisturize and smooth your hands. You can't be caught on the Red Carpet (or the office, the mall, or a parent/teacher conference) with dry hands.
If you're interested in trying out any of the products, you might want to start with the travel set. You don't have to be traveling anywhere to use them -- but if you are, the items are all suitable for carry-on bags. Each travel set comes with a 2oz Gelèe and Lotion, a 2.5oz Sugar Scrub, a 2.1oz Shea Butter Hand Crème, and a 1.5oz Gelèe Soap.
scent.