THE 39TH ANNUAL DAYTIME EMMY AWARDS
Behind-the-scenes Emmy coverage: The Emmy gift bag
Posted Monday, June 25, 2012 1:11:21 AM
One of the biggest perks of attending an awards show is the swag -- the gifts given out to the Emmy presenters, nominees, and guests. For the seventh year in a row, Soap Central had a chance to peek inside the so-called swag bag, and we're letting our readers know what's hot so you can be ahead of the curve.
This year's gift bags included items that were far more practical, and less ostentatious than previous years. In fact, for anyone who considers themselves a "foodie," this year's gift bag was something of a dream come true. However, that doesn't mean that every item in the gift bag was edible or that the swag lacked bling.
Please note: All links will open in a new window. As these sites are maintained by companies other than Soap Central, we are unable to provide technical assistance or be held responsible for their content.
Pomp by Sharon Case
Sharon Case isn't just an Emmy-winning star of The Young and the Restless. She's also a highly fashionable businesswoman with a line of her very own jewelry, called Pomp. After nearly 20 years bringing Genoa City's Sharon Newman to life, Sharon Case has gotten to see her own business come to life.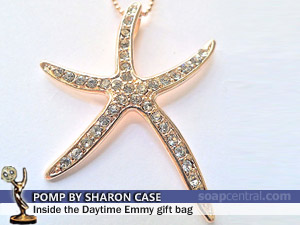 In 2010, Sharon teamed with designer Elif Inanc to launch the first product line of Pomp jewelry on QVC. The products were an immediate hit and completely sold out. Now, Sharon is back with a new lineup of Pomp items, and she is selling the jewelry directly to customers on her web site.
Pomp currently offers just over a dozen different items, including bracelets, earrings, necklaces, and rings. The line is continually developing, so different styles and items are always being made available.
The unique beauty of each item will have you looking like a million bucks, but you won't have to shell out Hollywood-sized cash. Prices range from $15 to $35
» For more information about Pomp, please visit: sharoncasejewelry.com


Poorboy Candy
There's "carmel" and then there's caramel. If you consider yourself to be somewhat of a sweet tooth connoisseur, you'll know exactly what the difference is. Minnesota-based Poorboy candy has crafted a soft, buttery, chewy caramel that takes a traditional sticky-sweet snack to an entirely new level.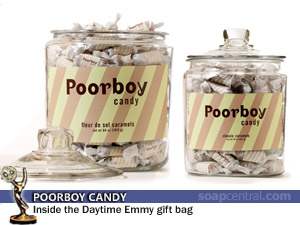 Available in five different flavors -- classic , fleur de sel, turtle pecan, chocolate infused, and espresso infused -- you'll find yourself torn between wanting to gobble the candy up and savoring each bite. Poorboy is also always considering the addition of new flavors, but perfection takes time, so you'll need to check back to see when the new flavors are added (or sign up for their mailing list to stay informed).
If you're having a hard time deciding which flavor to get, there's an easy fix. Poorboy candy also has a mix-and-match ordering option, as well as a Caramel of the Month club.
As a special offer to Soap Central readers, Poorboy Candy will give 10% off your first order when you use the coupon code: soapcentral
P.S. The fleur de sel is our favorite!
» Visit Poorboy Candy's web site at poorboycandy.com
Use coupon code soapcentral for 10% off your first order
Nichols Grill & BBQ
Summer is here, and who doesn't love a good barbecue? Everyone knows that the make it or break it moment in any grilling session comes down to the barbecue sauce that you use, and not everyone likes the same flavor. Luckily, Nichols Grill & BBQ has developed fifteen (Yes,
15
) different gourmet BBQ grill and dipping sauces.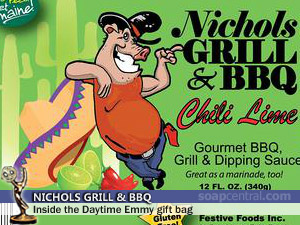 The flavors range from their original house sweet sauce and maple chipotle to fruit-flavored sauces like smoky apple, chili lime, and blueberry zing. And if you're adventurous and like it hot, there's always the Wild Boar Hot Sauce that you can use on your next batch of wings.
Every bottle of Nichols Grill & BBQ sauces is made in the kitchen of their Maine restaurant, bottled, and labeled by hand!
» To learn more or purchase one of the tasty sauces, visit their web site at topofthehillgrillonline.com.
Scented Studio
Have you ever wanted to smell like a soap star? Okay, so maybe it's a little creepy to want to smell like Erica Kane, but Scented Studio has come up with the next best thing: a nearly infinite combination of fragrances that can be transformed into scented candles, room fragrances, hand and body lotions, massage oils, and perfumes.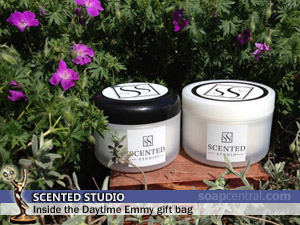 Four exclusive scents were created for the 39th Annual Daytime Emmys -- Fruit Fizz (raspberry, a hint of vanilla with a fruit twist), Summer Dreams (citrus orchard, with a splash of summer, a hint of sweet rain, and a grapefruit undertone), Tealicious (white and dark tea, a touch of cactus, with a swirl of light citrus), and the aptly named Romantic Desire (vanilla, spice, with an enticing warm arabian sandalwood).
All of the scents -- including more straightforward ones like lemon lavender, sparkling strawberry, and caramel cappuccino -- are available through Scented Studio's online store.
If you live in the Denver area (or plan to visit), you can stop by the Scented Studio's store to make your own personalized fragrance from more than 350 essential oils and fragrant oils, and blend them into a soy candle or room diffuser for any room in your home.
» To explore the home and body fragrances, visit their web site at scentedstudio.com.