One of the biggest perks of attending an awards show is the swag -- the gifts given out to the Emmy presenters, nominees, and guests. For the seventh year in a row, Soap Central had a chance to peek inside the so-called swag bag, and we're letting our readers know what's hot so you can be ahead of the curve.
This year's gift bags included items that were far more practical, and less ostentatious, than previous years. In fact, for anyone who considers themselves a "foodie," this year's gift bag was something of a dream come true. However, that doesn't mean that every item in the gift bag was edible or that the swag lacked bling.
Off the Wall Productions was once again the official provider of the Official Emmy Gift Lounge and Gift Bag.
Please note: All links will open in a new window. As these sites are maintained by companies other than Soap Central, we are unable to provide technical assistance or be held responsible for their content.
Mom's Kisses
More and more, people are trying to limit the number of harsh chemicals that they come into contact with on a daily basis. From household cleaners to foods, going natural has become more than just a fad and is truly becoming a way of life.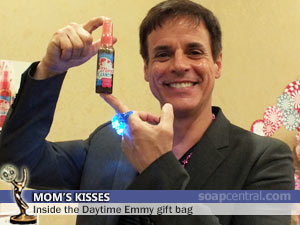 One area that is still making strides is the health care industry. It's still part habit and part convenience to pop a pill. But what could possibly make a bump, bruise, or ache feel better than a kiss from your mom?
The appropriately named Mom's Kisses harnesses the power of arnica, a member of the daisy family, as a natural and drug-free alternative to ibuprofen and acetaminophen for pain and anti-inflammation. Arnica is believed to help the body heal itself more rapidly, and it does not have the same side effects that pharmaceuticals such as NSAIDs have, including potential toxicity to the liver, kidneys, or intestines.
Arnica is also helpful for sore muscles, so simply spray some on and massage it in after a workout for relief. Mom's Kisses is extra special because of its potency. Most cream- and gel-based products have just 5% arnica; Mom's Kisses uses 20%. And the spray container is easily portable.
» For more information about Mom's Kisses, please visit: momskisses.com


Earth Elements
While we've got your attention on the all-natural products, an important part of any Red Carpet look is making sure that you look amazing. And while you may have your makeup and clothes looking like perfection, you can't forget about your lips!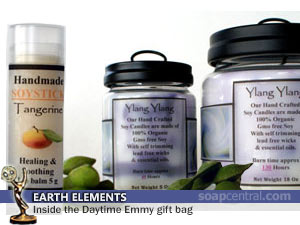 Earth Elements has created a Soy Stick lip balm made with the finest organic soy oil, coconut oil, and shea butter (along with calendula and goldenseal for a fast and natural heal).
Some other lip balms contain additives or petroleum biproducts, which could contain lead, mercury, or benzene.
There is an endless array of flavors available to choose from, including lemon, mint, honey, aloe vera, cinnamon chai, and goji berry.
If you're looking for other natural products, Earth Elements also offers a line of handcrafted, organic soy soap as well as clean-burning soy candles.
Insider tip: Our Dan J Kroll kept a Tangerine lip balm in his pocket while doing interviews on the Red Carpet and raved about how he didn't have to keep reapplying the product.
» Visit Earth Elements' web site at earthelementsfarmproducts
High End Hangers
You're having a special event -- and you've made sure that every single detail is covered. Or have you? If you're planning a wedding, a prom, or a baby shower, or even just want a little something special for you or your children, why not make the event even more special with a personalized hanger?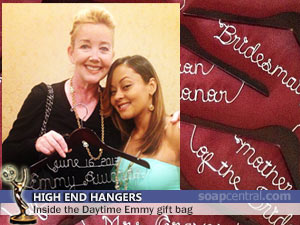 But these are no ordinary hangers. They are double gloss, premium, fully customizeable hangers from High End Hangers.
Available in a wide assortment of colors (hand painted blushing pink, baby blue, white, earth green, bold red, natural beige, or chocolate brown) with your choice of wire colors (silver, gold, black, or chocolate), the sky's the limit. Share a special memento with your bridal party, or create a beautiful hanger to commemorate your special day.
High End Hangers also offers wine glass charms, which are another way to make your special event a truly memorable and personal experience.
Discounts are offered on multiple orders, and owner Piney Davis would love to put together a package deal tailored to your special day -- just tell her Soap Central sent you!
» Visit High End Hangers' web site at etsy.com/shop/highendhangers
Niagara's Honeymoon Sweets
Several years ago, one of the hottest products in the Gifting Suite was a service that allowed consumers to have a photo turned into a woven blanket. This year's Gifting Suite featured a much tastier version of that same idea: ornate picture frames with personalized photos... that are both completely edible.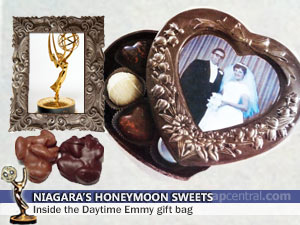 Niagara's Honeymoon Sweets is the official chocolate of Niagara Falls. And thanks to the Internet, you needn't take a barrel over the falls to get your hands on some of the tasty confections.
Niagara's Honeymoon Sweets' chocolate frames enable you to create one-of-a-kind chocolate masterpieces! All you have to do is choose an edible frame, send them a photo or graphic, and they'll print it on gourmet chocolate. The frame and the photo are 100% edible.
If you're worried that you (or your gift recipient) couldn't bear to eat something so beautiful, Niagara's Honeymoon Sweets does offer an assortment of more traditional candy, including chocolate-covered nuts, fruit, and caramel. If you can't decide quite what to choose, there are also gift box assortments of the most popular items.
Insider tip: If you aren't sure you want to, um, take the plunge, give the dare devils a try. These mini barrels are bite-size milk chocolate pieces dipped with cookie pieces. Delicious!
» To learn more or purchase one of the tasty sauces, visit their web site at niagarashoneymoonsweets.com.
Three Sisters Fudge
Often the best confections are found in small towns off the beaten path -- and those shops remain a secret unless you are fortunate enough to stumble upon them after taking the wrong exit off the highway. Or, in this case, have access to the Gifting Suite at the Daytime Emmys.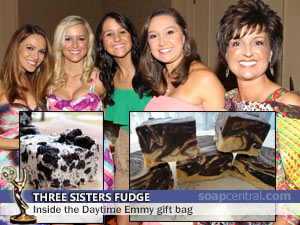 Based in Blue Ridge, Georgia -- if you're near Atlanta, you just have to "keep on driving" northward, we're told -- Three Sisters Fudge offers more than thirty different kinds of homemade fudge. The product line ranges from the traditional (chocolate, vanilla, and peanut butter), to the more exotic (rocky road, mint chocolate swirl, and cookie dough), to the special treat (a sucrose free, diabetic-friendly line of fudge).
In a time when products seem to be receiving warning labels, we'd like to suggest that one be slapped across each package of Three Sisters Fudge: WARNING! This smooth and creamy fudge will somehow find a way to disappear if left unattended for more than a few minutes.
If you're torn between flavors, there's always the best of all worlds Tiger Butter (a combination of the three most popular flavors: chocolate, vanilla, and peanut butter).
» To explore the full line of fudge and other treats, visit their web site at 3sistersfudge.com.