As previously reported by
soap
central
.com
,
Ingo Rademacher
(
Jasper "Jax" Jacks
) will return to General Hospital in June.
It's been eight months since Rademacher left the role he'd created back in 1996. Prior to his departure, Rademacher voiced his displeasure with the way his character was being handled by the writers. Calling his character's storyline "a fairy tale," Rademacher left Port Charles in search of "real drama." According to a published report, Rademacher said that no amount of money would have changed his mind about leaving the show.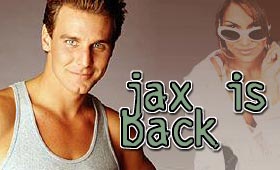 Rademacher's first gig after leaving General Hospital was the short-lived primetime soap, "Titans." It was canceled in the middle of its run and Rademacher was left without a job for the first time in many years.
Last month
, Rademacher was once again spotted making the daytime circuit. The Australian-born actor was reportedly up for a still-to-be-cast part of Colin, an Irish heartthrob on Days of our Lives.
DAYS execs stopped courting Rademacher after he revealed that daytime wasn't in his future. According to a DAYS spokesperson, Rademacher indicated that he wanted to do feature films. For whatever the reason, Rademacher decided to keep his options open and decided to return to General Hospital.
There had been reports that Rademacher's former on-screen love, Vanessa Marcil (Brenda) would also be returning. Newly crowned executive producer Jill Farren Phelps has admitted that getting Jax and Brenda back to the screen is high on her wish list. According to a Marcil spokesperson, however, the actress has no intention of returning to General Hospital at this time.