General Hospital fans are buzzing with talk that three of the show's big name stars might be leaving the show. Rumored on the chopping block are Emmy winner Natalia Livingston(Emily Quartermaine) and Emmy nominees Tyler Christopher (Nikolas Cassadine) and Kelly Monaco (Samantha McCall).
According to Monaco's official web site, however, the actress will be sticking around Port Charles for the foreseeable future.
Rumors have been swirling for the better part of year about Kelly Monaco's (Samantha McCall) future with General Hospital. In November 2006, Monaco revealed that she and network execs had reached a deal on a new contract that would allow her to pursue projects outside of daytime television. As part of the deal, Monaco was signed on to appear in the pilot of Football Wives, the American version of the popular UK series Footballers' Wives. The show was not picked up for ABC's fall schedule.
As the actress' contact once again started to wind down, Monaco and network execs headed into contract talks. Show sources say that the sticking point during the negotiations was money. Monaco was said to be demanding a salary higher than what the network wanted to spend - but the salary was not believed to be that out of line with what other stars are making.
"Kelly has agreed to terms on a contract with ABC that will allow her to continue playing Sam McCall and pursue other opportunities," read a statement on the actress' official web site.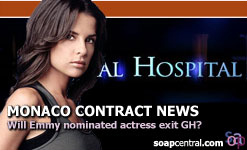 Monaco joined the General Hospital roster in October 2003. She had appeared previously - albeit briefly - on the show in another role, a role she created on the GH spinoff Port Charles. The actress appeared on Port Charles from 2000 through the show's cancellation in 2003.
Prior to joining daytime, the Philadelphia native appeared in several motion pictures, including Idle Hands, Mumford and BASEketball. Previous television experience included work as a correspondent for the tabloidesque news show Hard Copy. Monaco also appeared as a model for various Playboy videos. Monaco became a household name in 2005 when she was named the winner of the first edition of ABC's Dancing With the Stars.
A show spokesperson did not respond to inquiries for a statement. Terms of Monaco's contract were not revealed.