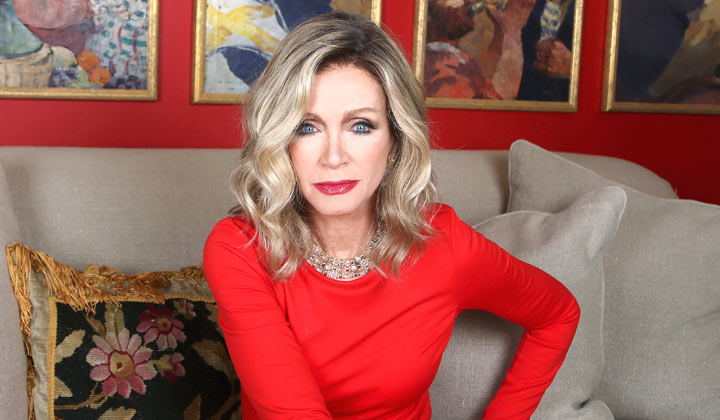 Madeline West Reeves
Donna Mills
Her birth name is Magda Westbourne Unknown Rikers Island Correctional Institute, New York
Formerly New York City, New York
Formerly Zurich, Switzerland Single/Widowed (Mr. Reeves) Mr. Reeves
Liesl Obrecht
(sister)
Britt Westbourne
(niece, via Liesl)
James Nathan Reeves
(nephew, via Liesl)*
*Madeline raised James as her son Nina Reeves (daughter; deceased) Unknown
New York socialite Madeline West Reeves arrived in Port Charles to visit her son-in-law Silas Clay. Silas had been accused of injecting his wife Nina Reeves with an overdose of a prescription which led to the comatose state Nina had been in for the past twenty years. Madeline vowed to make Silas pay for harming her daughter and she worked closely with Detective Nathan West to seek justice for Nina. Madeline claimed that Silas wanted Nina out of the way so that he could continue his affair with Ava Jerome while he reaped the financial benefits which would be bestowed upon him in the event of Nina's death.
While in town, Madeline made time to visit her son James. In Port Charles, James used his professional name of Nathan West instead of James Nathan Reeves to cover his personal interest in his sister Nina's case. Nathan believed he had a lead in Nina's case after the pharmacist that filled the prescription was located. However, the pharmacist was murdered and Nina's case turned to a murder investigation as well after Madeline revealed that Nina had passed away recently. After Madeline informed Silas of Nina's death, she pressured him to sign away his rights to Nina's estate and he agreed.
With the news of Nina's death, Nathan wondered if Silas was innocent and considered Ava Jerome as a possible suspect. When Nathan set a trap for Ava, his mother showed up instead. Madeline was forced to confess that she had killed the pharmacist and had injected Nina years ago after Nina announced that she was pregnant. She went on to explain that she had only hoped to end the pregnancy to ensure that Nina would not have a permanent tie to Silas.
Madeline was arrested for both murders and placed in a cell across from Liesl Obrecht, her younger sister. The women exchanged barbs and taunted one another until Nathan paid Madeline a visit. After he left, Liesl realized that she had just seen the son that Madeline had raised for her. Madeline warned Liesl not to reveal the truth but her sister remained intent upon a reunion with her progeny and insisted that her daughter Britt would be thrilled to meet her sibling. Although Madeline planned to keep up the ruse that Nathan was her son, she was forced to tell him the truth after he almost made a romantic connection with his sister Britt.