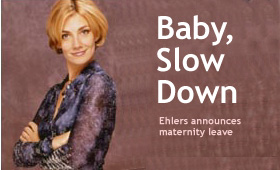 Oh Baby, Baby, Baby!
March 12, 2000
Congratulations to Beth Ehlers (Harley) and her husband Matt. The couple is expecting their second child. They have a son, Henry Jack, who is nearly two now. No word on whether the pregnancy will be written into the storyline.

Guiding Light alum Cynthia Watros (ex-Annie) and her husband are expecting twins in July! Cynthia can be seen in the FOX series "Titus" as Erin, the girlfriend of star Christopher Titus.
---
Boy, oh Boy!
December 2000
Congratulations to Laura Wright (Cassie) and husband John on the birth of their son, John Michael Wright. Born on December 21st, the baby was an early holiday gift. John Michael weighed in at 7lbs 1oz. The couple also has a daughter, Lauren, age 2.ighed in at 7 lbs., 1 oz., joins big sister Lauren Elizabeth, 2.
---
It's a Girl!
2000
Congratulations to Melina Kanakaredes (ex-Eleni, now on NBC's Providence") on the birth of her daughter. Kanakaredes, 33, gave birth Tuesday to a 7lb 12 oz girl, the first for the actress. No name has been announced.
---
It's a Boy!
May 11th
Congratulations to Crystal Chappell(Olivia) and her husband, Michael Sabatino, who became the proud parents of a baby boy on May 11 at 12:45 a.m. Jacob Walker weighed in at 9 pounds, 2 3/4 oz.
---