Another week, another exit at Guiding Light.
In what can only be called a surprising announcement, a spokesperson for Guiding Light has confirmed that actress Laura Wright (Cassie Winslow) will be exiting the show when her contract expires later this year.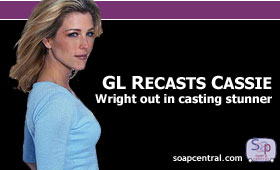 The wildly popular Wright joined the cast of Guiding Light in August 1997. Her addition to Guiding Light came shortly after the cancellation of The City, where Wright portrayed Ally Bowman for two years (with an addition four years in the same role on the ABC soap Loving).
"Guiding Light and Laura Wright have mutually agreed to part ways when her contract expires in October," executive producer Ellen Wheeler said in a statement. "Moving forward, we've got a fabulous story in place for Cassie. We wish Laura the best of luck."
"This was such a hard decision," Wright said in a statement on her official web site. "I can't believe that I'm saying goodbye to my Guiding Light family. It has been 8 great years, but this is something I need to do."
Insiders state that the recent wave of budget cuts at the show were a driving force in the decision for Wright to exit. However, it appears more likely that Wright's exit had more to do with an offer from a rival network: Wright will begin work on ABC's General Hospital in October. In fact, in recent interviews Wright attempted top dispel the monetary issue.
"I didn't leave because of pay cuts," Wright said. "I didn't leave because of any kind of drama. I left [...] because I want to try another part as an actor."
Wright will last air on November 4th. The role of Cassie will be recast. For more information on the recast, please click here.