The search for a new Cassie Winslow has come to an end. Guiding Light has selected newcomer Nicole Forester for the role, Soap Central has learned. There became a need for a new Cassie when actress Laura Wright announced that she was exiting the show to take over a role on ABC's General Hospital.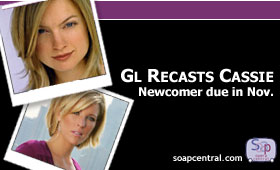 The Guiding Light role will mark Forester's first foray into daytime drama. She has appeared previously on the primetime soap Beverly Hills, 90210. The actress has also appeared in guest spots on shows such as Two and a Half Men and Shasta McNasty.
Among other interest facts on Forester's resume is her ability to speak German fluently.
In landing the role of Cassie, it is believed that Forester beat out two veteran daytime actresses. It was widely believed that former General Hospital star Cynthia Preston (ex-Faith Rosco) had read for the role. It is possible that her veteran status salary coupled with Guiding Light's budget woes made for an incompatible situation. Meanwhile, fans lobbied the show to hire Jensen Buchanan (ex-Melissa Bedford, General Hospital; ex-Marley Love/Victoria Hudson, Another World) for the role.
Forester's official web site lists her first airdate as November 4th. However, CBS has previously reported that Wright will exit the role of Cassie on November 4th. Of course, Soap Central will continue to follow the story and update these first and final airdates as they are confirmed.