The following email was sent to Guiding Light fans by the show's head writer, David Kreizman. It is meant to address the show's upcoming 70th anniversary on January 25, 2007. For a sneak preview at what will be a very special episode of Guiding Light on January 3rd, please click here. The letter also discusses what fans can expect in the year ahead as GL continues its reign as the longest running show in broadcast history.
Dear Guiding Light Fans,
As I write to you this holiday season 2006, we are just over a month away from celebrating an incredible milestone in Guiding Light history. On January 25, 2007, Guiding Light, the longest running show in broadcast history, will officially be 70 years old. We believe it's an anniversary to be cherished not only by those of us who work on the show, but by you, our loyal and passionate audience.
With the anniversary approaching, we spent a lot of time researching the great and fascinating history of GL. One question kept popping into my head: What is it about Guiding Light that has helped it survive and thrive for so long? The cast, writers and producers have changed many times. Even the show's setting bounced from town to town. Then why, when so many other shows failed, did Guiding Light endure?
For the answer, we went back to the beginning, to 1937, when the legendary Irna Phillips created The Guiding Light for radio. Irna, writing from her own experiences, set out to make a show about community and hope, about the brotherhood of man. And through all these years, underneath all the complications, the infidelities and the betrayals we've come to expect from a soap opera, Irna's message is still the backbone of the show.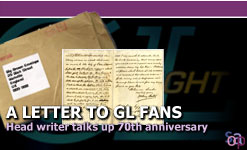 We've decided to celebrate our 70th Year by honoring that message both on the air and off. Throughout 2007, Guiding Light will team with Hands On Network as part of the "Find Your Light" campaign, in which our cast and crew will give back to communities all over the country. Our first stop will be the Gulf Coast where the entire GL cast will rebuild homes devastated by Hurricane Katrina. On screen, we'll kick off the year with a Wednesday episode that shows how the people of Springfield can make their lives better with simple acts of kindness. We encourage all of you to get involved in your own communities and to join us as we "share our light" with others.
Not all will be rosy in Springfield in 2007, of course. Alan's battle for Lizzie and Jonathan's baby will intensify with Tammy, Reva, Josh and Cassie caught in the crossfire. Jonathan and Tammy fight to be together - and could a happy ending be in the cards? Josh attempts to make a life with Cassie, but will Reva ever be out of his heart? Harley and Gus's marriage will be tested by the return of her teenage daughter, who's a bit more complicated than the last time we saw her. A reminder of Dinah's past will arrive in Springfield to pose a threat to Mallet - and to Vanessa and Matt. Coop will struggle to hold onto Ava even as Alan Michael becomes even more Spaulding-like in an attempt to win her. And meanwhile, the tortured connection between Ava's parents, Olivia and Jeffrey, makes life difficult for Buzz.
So that's January…
I take very seriously the responsibility of writing for a show with the proud history of Guiding Light. GL is still a show about family, about love, about community. You are a part of that family, that community, part of Irna Phillip's "brotherhood of man." I, along with the rest of my writing team, will continue to deliver you a show with heart and joy and a whole lot of surprises. Thank you for your continued support and dedication. We appreciate it dearly and never take it for granted.
Enjoy your holidays and have a very happy New Year. See you in 2007.
David Kreizman
Headwriter, GL