A Summer Brown Out for OLTL
By
Dan J Kroll

Posted Sunday, June 12, 2005 10:06:39 PM
Veteran soap opera actress Kimberlin Brown (Paige Miller) will exit her role as Dr. Miller on One Life to Live this summer. The decision to exit the show is said to be solely that of Brown and the show is considering whether or not to recast the role.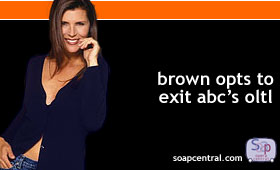 Brown joined the cast of ABC's One Life to Live in October 2004 in what was slated to be a recurring capacity. Over time, the show's writing staff is said to have devised more story for the character - so much, in fact, that the network offered Brown a contract with the show. The offer, however, was reportedly rejected due, in part, to the fact that Brown is based on the West Coast and has been commuting back and forth between her home near Los Angeles and the One Life to Live studio in New York. Set-side sources also hint that Brown declined the offer of a contract because her salary demands were not met.

Some fans may recall that Kimberlin Brown wasn't even supposed to be part of the One Life to Live cast. Originally the show landed Mary Beth Evans to play the part of Paige - but Evans was offered a contract by CBS's As the World Turns and the actress subsequently passed on the One Life to Live offer. Brown was available at the time and agreed to take on the part. [Click here for more on this story from our News Archives.]

One Life to Live will recast the role of Paige and the character will see much more on-screen time. Brown will make her final on-screen appearance in July.

Meanwhile, the Los Angeles-based CBS soap, The Young and the Restless, is abuzz with rumors that Brown will soon be reprising the role of Sheila Carter in the fictional town of Genoa City. Brown hasn't been seen on Y&R since 1992.




RELATED STORY
Brown in as Evans bypasses OLTL role.
---
INS AND OUTS: WHO'S COMING AND WHO'S GOING